This summer we loaded up the camper and headed north to Smoky Mountain National Park, Shenandoah and Acadia. It's not the first time we've spent the summer exploring a variety of parks, but it is the first time we've taken the camper.
Destination: Acadia National Park
Date of Visit: July 2018
Kids: Cole (age 11) & Kiley (age 8)
Length of Stay: 7 Days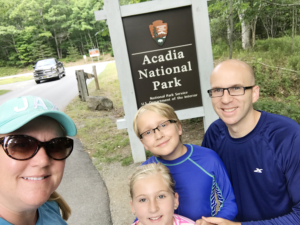 We left Shenandoah and headed north to Maine and Acadia National Park. The trip is over 12 hours so we had decided to stop 1/2 way and stay in a hotel for a night. After 10 straight nights of camping with no electricity or water, a hotel was a welcomed change for everyone. I was able to do laundry and everyone enjoyed a nice, long, hot shower.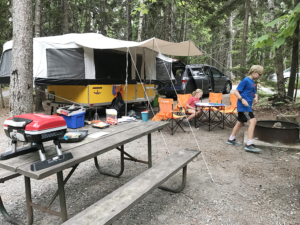 Our stay at Acadia was our longest single stay in our camper to date. We were there 7 nights in the Blackwoods campground, but honestly we could have stayed longer. There was so much to do and see in Bar Harbor that a week was hardly enough. These are a few of our favorite activities from the week.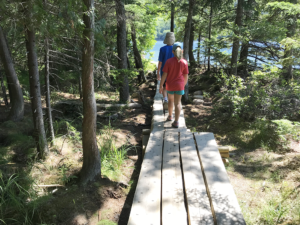 Hiking the Jordan Pond Path was one of the first things we did at the park and it didn't disappoint. You can go the entire way around the pond in the 3.3 mile loop. The path to the right is very flat and the path to the left puts you on boardwalks and over some rocks. We started to the left and I'm glad we did. By the time we got 1/2 way around and the kids were getting tired, the path became nice and flat and easy to walk.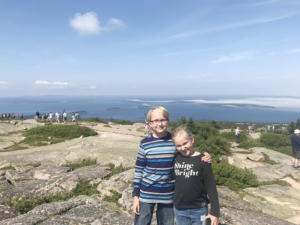 Cadillac Mountain is the highest point on the North Atlantic seacoast. Many people go early and watch the sunrise, but we choose to visit it on a clear day to take in the spectacular view. You can also hike it, but it's 7+ miles and very steep. There is a gift shop with drinks and souvenirs at the top.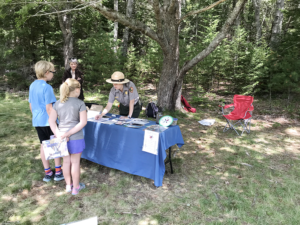 Of course, no visit to a National Park would be complete if we didn't earn our Junior Ranger badges. The visitor center at Acadia is very small and very busy so they ask that you attend a program and you can be sworn in and receive your badge then.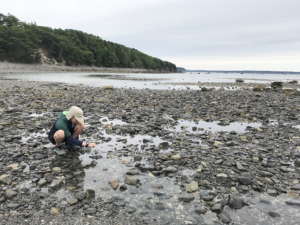 Bar Island is an area accessible during low tide and exploring the area was one of the highlights of our days. There are tons of tiny tide pools and you can find small critters, interesting rocks and even some sea glass.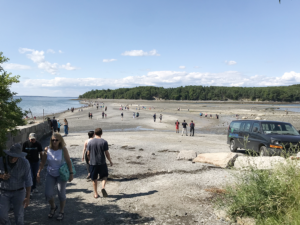 When the tide goes out it really goes out. You can even drive right out to the island, but I recommend walking and exploring as you go. Just be sure you're back before the tide rolls in because you can get stuck until the next low tide.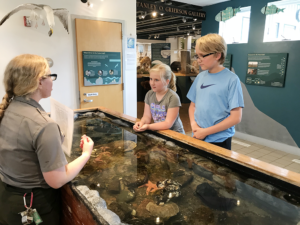 The Dorr Museum of Natural History that is located on the campus of College of the Atlantic makes a perfect pit stop on your adventures around Acadia National Park. It's actually the original park headquarters for Acadia and well worth a visit while you're in Bar Harbor. There a great touch tank with ranger led activities and lots of interesting local specimens. It's a small museum and entrance is by donation.
I would say that no visit to Acadia is complete with out a stop by the Jordan Pond House for a bite to eat. Be sure to try the popovers while your'e there!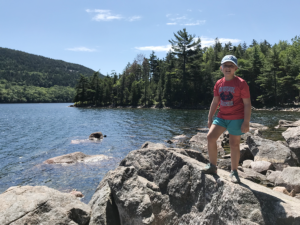 Acadia really did have a little something for everyone. The weather was stunning, the coast was spectacular and there was tons to do with the kids. We even did a little paddle boarding while we were there, but more on that later.