This summer we loaded up the camper and headed north to Smoky Mountain National Park, Shenandoah and Acadia. It's not the first time we've spent the summer exploring a variety of parks, but it is the first time we've taken the camper.
Destination: Great Smoky Mountain National Park
Date of Visit: July 2018
Kids: Cole (age 11) & Kiley (age 8)
Length of Stay: 5 Days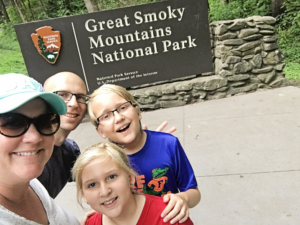 Great Smoky Mountains National Park is the most visited park in the US but since it's such a large park it didn't feel crowded even though we were visiting during the 4th of July.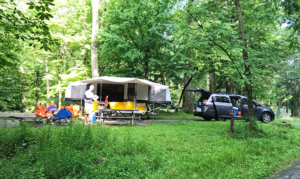 We camped at the Elkmont campground for 5 nights while we were in the Smoky Mountains. This campground is close to Gatlinburg, which can be good and bad. We had no cell signal and there are no showers in any of the campgrounds so being closet to town worked out good in that aspect.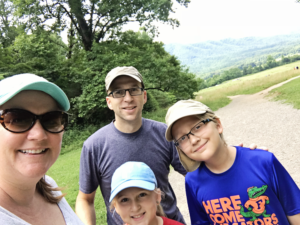 We spent our first day exploring Cades Cove. There is a loop you can drive and stop along the way for little hikes and to see historic sites. There's a visitor center about half way around and we attended a Junior Ranger program and decided that was a good set for a picnic lunch.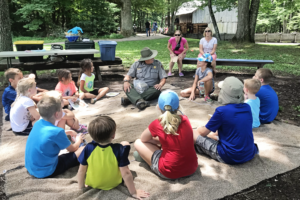 We were excited that there were so many different ranger led programs at Great Smoky Mountains National Park. We attended a Junior Ranger program that was just fantastic. The kids (and parents) just loved it.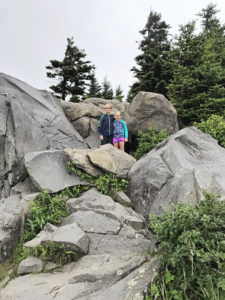 Our next day we ventured up to Clingmans Dome. There were great rocks for climbing on, and you can take the trail all the way to the observation tower.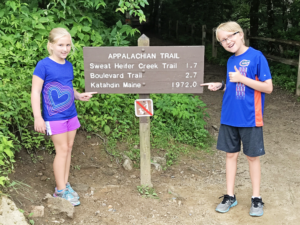 We did some hiking while we were in the Smoky Mountains. There are tons of trails and we loved the Laurel Falls Trail. When you get to the top where the falls are you can actually climb down and play in the falls.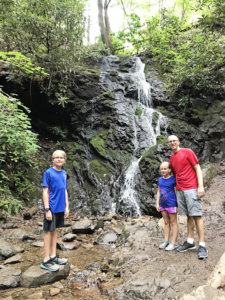 We found another great and easy trail right by there Sugarland Visitor Center. This trail was partially paved and very easy for the kids.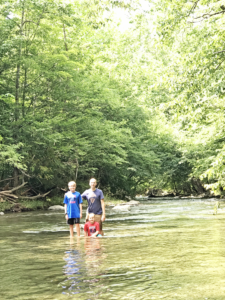 One of our favorite parts about the Smoky Mountains was playing in the creeks and river. We spent a day tubing with River Rat and I can't recommend them enough.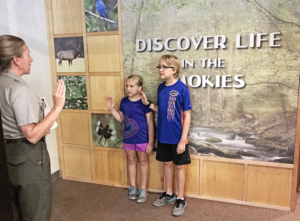 On our last day the kids turned in their Junior Ranger books and earned their badges. While I've written about the Junior Ranger program being free before, I should note that at Great Smokey Mountains there was a $2.50 charge to buy the books. Still a small price to pay for such a great program.