We celebrated our 16th anniversary this year and when trying to decide where to go for a getaway without the kids, the Ritz Carlton Amelia Island was the first place that came to mind. I should start by letting you know that we're huge fans of the Marriott brand. When traveling with the kids we almost alway opt for a Residence Inn and the Gaylord Palms in Orlando is our go-to "want to get away for the weekend" trip. We love the Marriott so much, it's the only rewards credit card we have. We earn points when we use it and then redeem those for more vacations. Needless to say, a few days at the Ritz for some much needed rest and relaxation was a no brainer.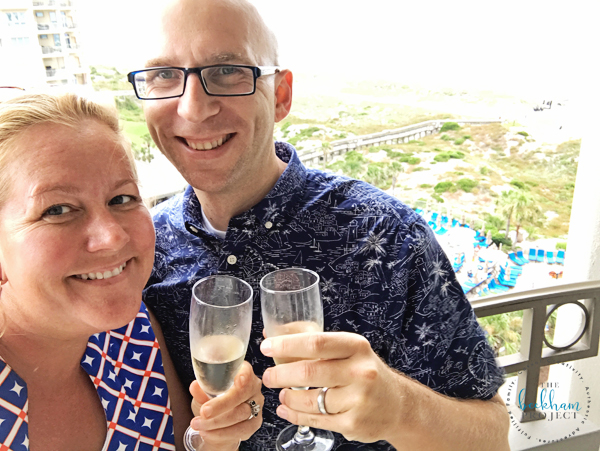 The level of customer service at the Ritz is some of the best in the world. We were greeted at check-in with a champagne toast and a special treat was waiting for us in our ocean front room to wish us a Happy Anniversary.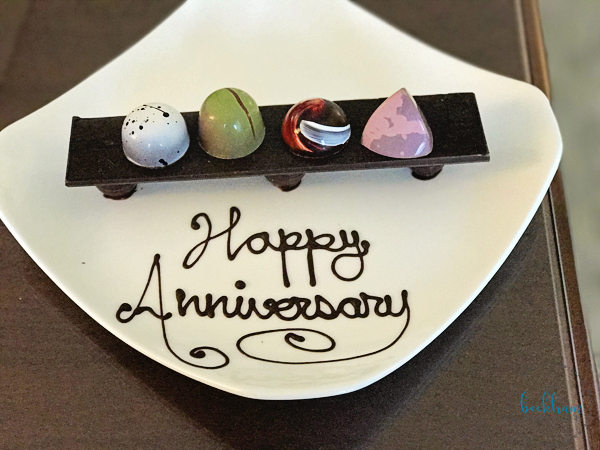 For this trip we decided to splurge and upgrade to Club Level. I'm going to focus the majority of my review on how amazing this upgrade actually is because when I was researching pre-trip, trying to decide if we should upgrade, I had a hard time finding information about it. Plus I like food and drinks, so there's that.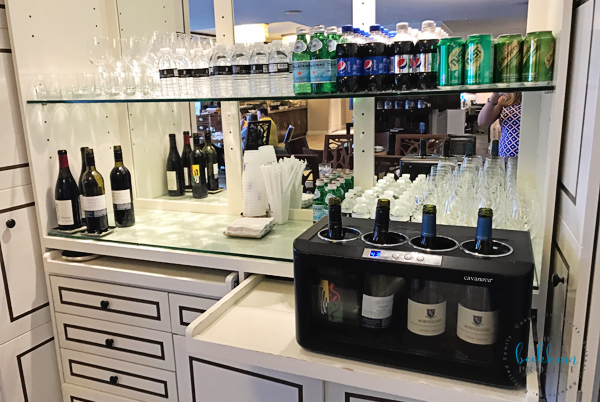 The 8th floor of the Ritz Carlton Amelia Island Resort is designated as Club Level. You pay a premium for a room on that floor, but what you gain is worth every penny. The most notable perk is the food and drink selection that is offered throughout the day. There are a variety of different food offerings; breakfast, light snack, hors d' oeuvres, and desserts that are set out at various times.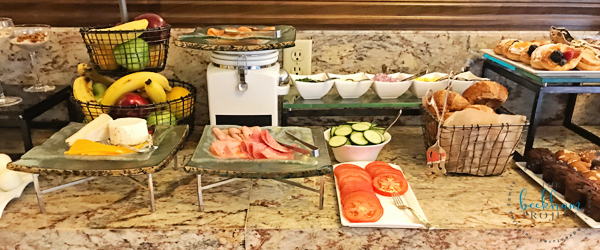 I thought the breakfast spread was by far the most impressive and you can easily plan to eat daily at the club lounge and not have to pay for a breakfast.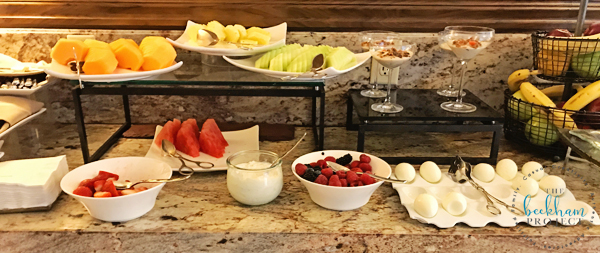 In addition to fresh juice, you could grab some bottled water or sodas to take with you down to the pool or to the beach.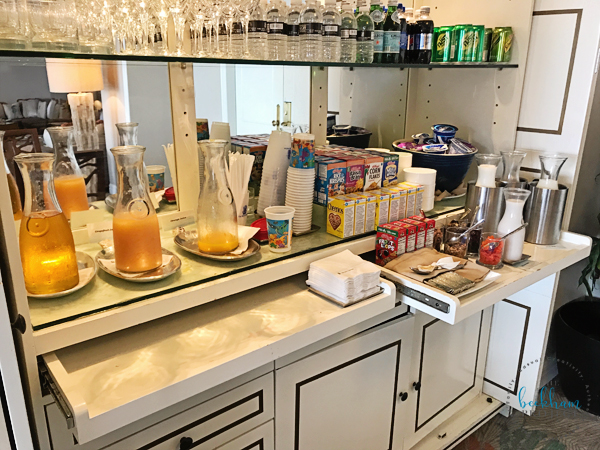 If you're interested in starting your day off with a mimosa, there's a champagne station set up all day long. In the morning it has mimosa mixings, in the afternoon cordials for champagne cocktails, and in the evening bottles of champagne for toasting.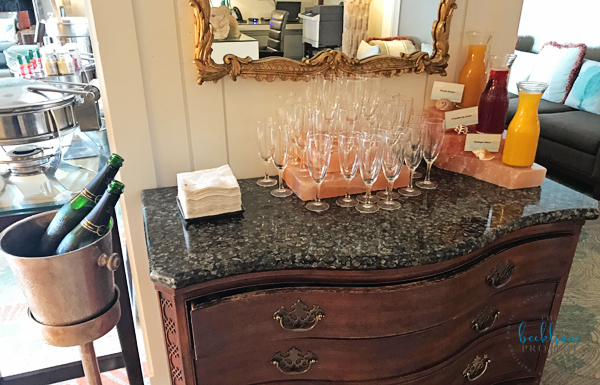 In addition to the all day champagne, the club lounge also offers high end coffee and espresso drinks all day long from their state of the art machine. We enjoyed a spiked hot chocolate in the evenings while walking along the beach.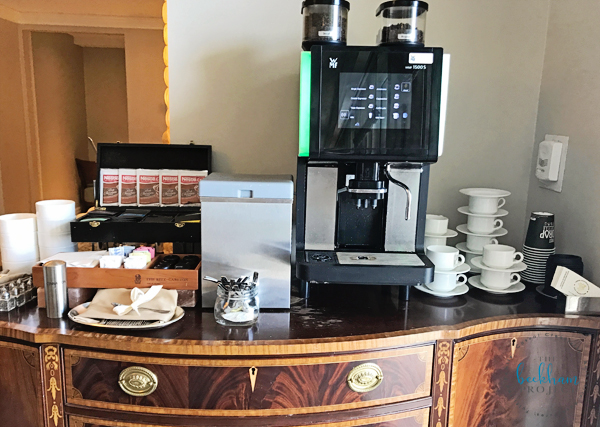 Most days we enjoyed lunch and snacks in the afternoon at the club lounge. The offerings were light and fresh. If you enjoy a heartier lunch then you'll need to actually leave the 8th floor and venture down to one of the restaurants at the Ritz.
We did eat lunch at the club level because I'm more of a grazer in the afternoon and loved the fresh homemade chips, cheese and fruit they had available. I also loved the drink service.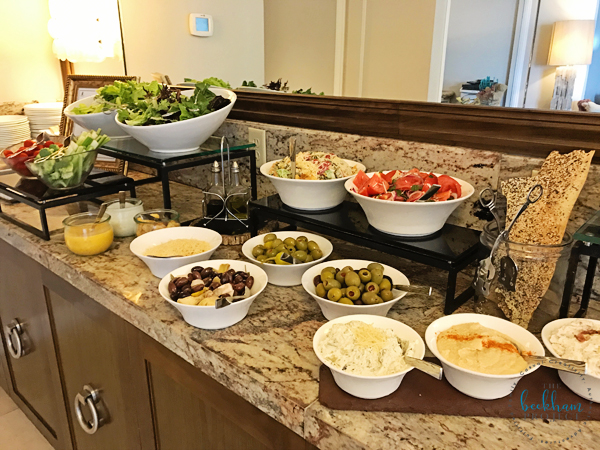 And speaking of drink service… remember when I mentioned that unparalleled level of customer service? Well, not only did the employees in the club lounge know our names after we arrived, after just one round of drinks they remembered our favorites for the entire visit.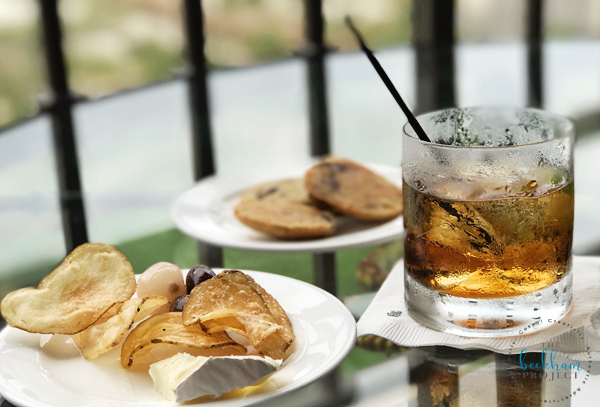 I'm not going to lie, I'm not used to being waited on. I'm really not used to someone asking me if I feel like a rum and coke or a Moscow Mule today. And I'm certainly not used to someone offering to refill my drink as soon as it was empty. The level of pampering and attention to detail is exactly what you'd expect from somewhere like the Ritz Carlton.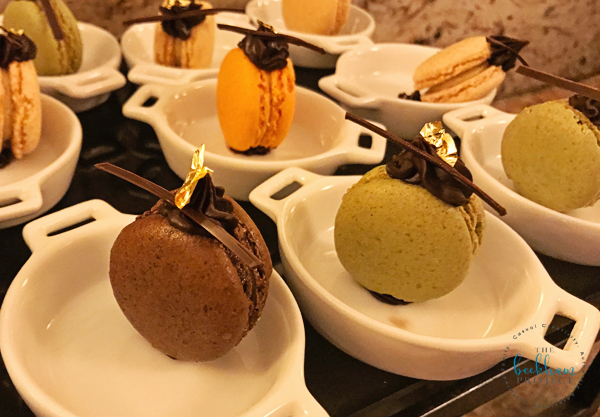 The last presentation of the day was desserts and holy cow, they were amazing. I'm a sweets girl and I think I tried every. single. dessert.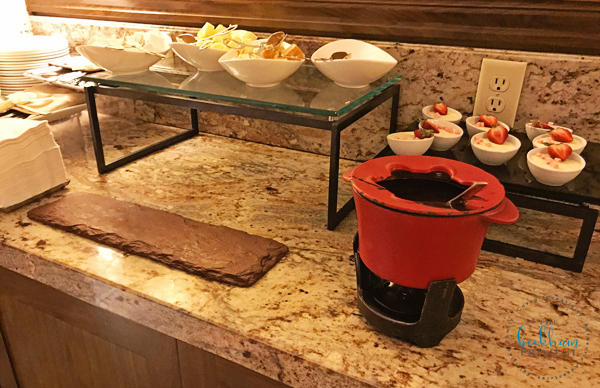 The best was the fondue pot that they put out each night with loads of fruit and cakes to smother with chocolate. My daughter would have absolutely loved this, she's a total fondue junkie.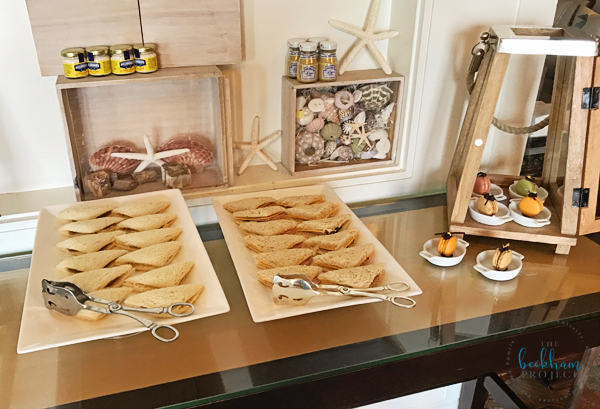 Speaking of the kids, we decided to ditch ours for the week, but even without them I always try to pay attention to "kid friendly" offerings. There were lots of families with little ones staying on Club Level while we were at the Ritz. Each day there were plenty of food choices that the kids were sure to enjoy. One night I even heard a family make a special request for their daughter and the server brought it right out to them.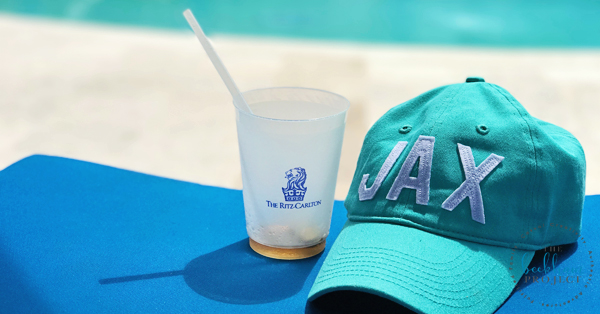 Now that I've written a dissertation about the amazing food and drinks available by staying at Club Level, I should probably take a second and tell you a little about the other great amenities that are included in your upgrade.
Additional perks include personalized concierge services, complimentary garment pressing of up to two pieces per day, panoramic views of the Atlantic Ocean and balcony seating, Ritz Kids Night Out, Friday & Saturday evenings (ages 5-12), complimentary wireless internet access, and use of the Spa pool.
The Spa "adult only" pool turned out to be our favorite secret spot on this trip. At most, there was one other couple also enjoying the pool, but most of the time it was all ours. You have to go through the Spa to get to the pool and I think most people don't bother unless you're having a treatment. Trust me, if you're on vacation without the little ones and want a quite place to sit back and relax, be sure to check it out.
The Ritz Carlton Amelia Island was the perfect place to celebrate our 16th Anniversary. We enjoyed walks on the beach, quiet poolside reading and being doted on by the employees in the Club Level lounge. Next time maybe we'll take the kids for a family friendly getaway, but then again, maybe not.
This post contains affiliate links, which means I receive a share of revenue if you make a purchase using these link. I always provide honest opinions and only to products I actually use and love.
SaveSave
SaveSave
SaveSave
SaveSave
SaveSave
SaveSave
SaveSave
SaveSave
SaveSave
SaveSaveSaveSave
SaveSave
SaveSave
SaveSave
SaveSave
SaveSave
SaveSave