Calvert Cliffs State Park in Maryland is located on the banks of the Chesapeake Bay and is the perfect place to take the kids for some fossil hunting.
Destination: Calvert Cliffs State Park in Maryland
Date of Visit: August 2020
Kids: Cole (age 14) & Kiley (age 10)
Length of Stay: 1/2 Day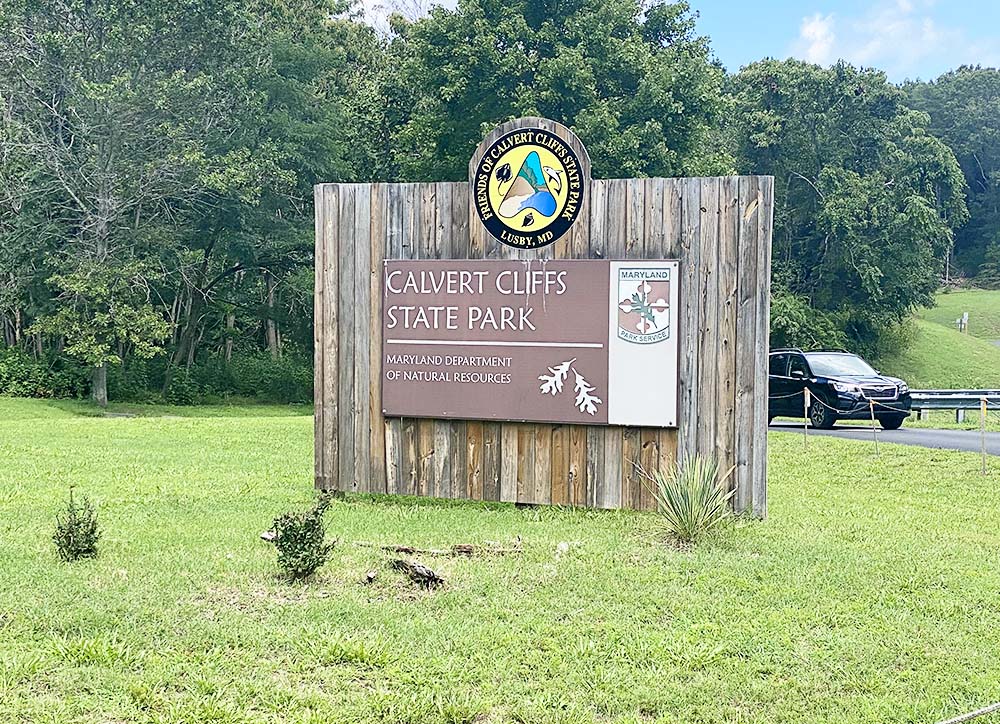 Calvert Cliffs in Maryland
After our recent visit to Elijah Clark State Park, we set off to explore along cliffs of the Chesapeake Bay. We had heard that you could find fossils of all different types and were excited to explore Calvert Cliffs State Park in Maryland. The park was allowing limited visitors when we were there, so plan to arrive early. The small fee of $5 per car ($2 extra for out of state visitors) makes it an affordable park to visit for families.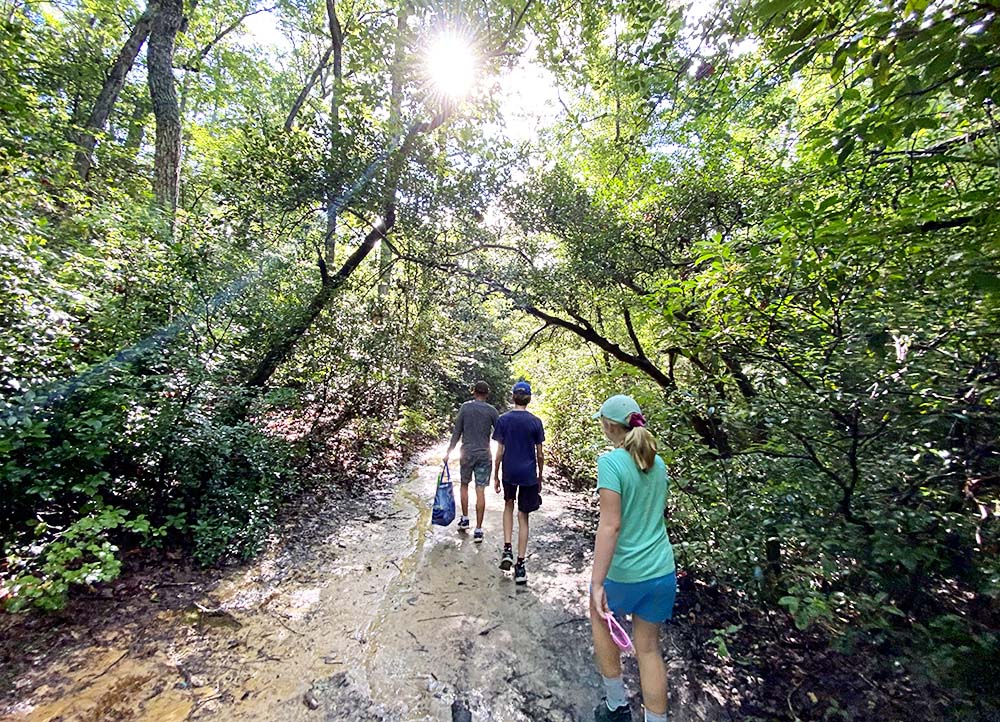 Hiking at Calvert Cliffs Park
Since we arrived early, we were eager to get moving along to the bay to find fossils. You have to hike out to the water and there aren't any amenities when you get there. Make sure you hit the bathroom and take water and some snacks for the hike. You'll want to take the Red Trail out to the water. It's 1.8 miles each way. The trail itself is pretty flat although there were some spots that were rocky and some with a boardwalk.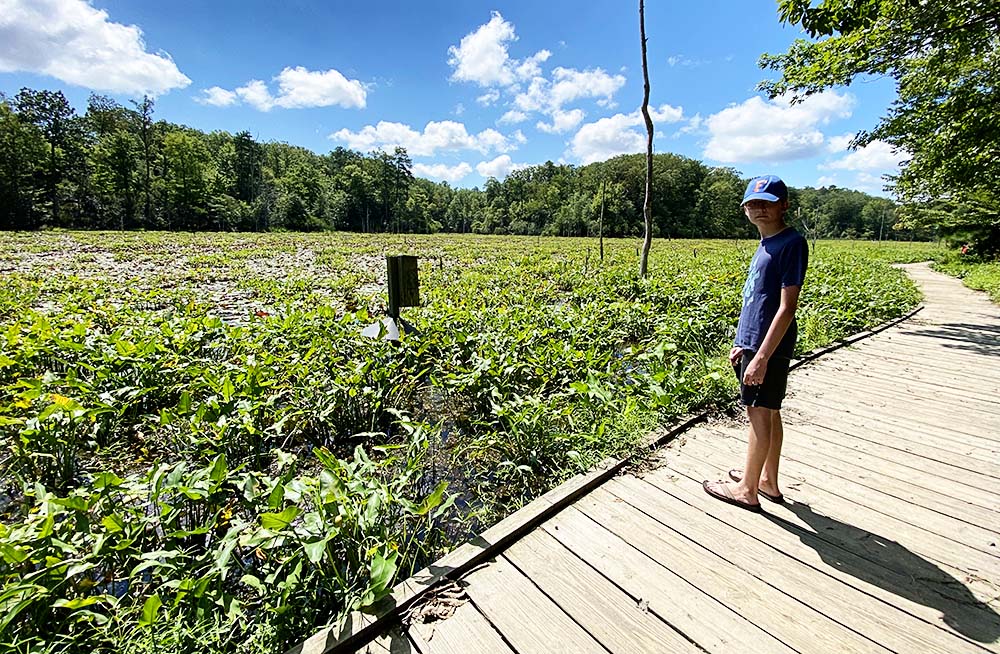 The Red Trail at Calvert Cliffs State Park
As you meander along the Red Trail towards the water, you'll enjoy a mostly shaded trail. Keep your eyes peeled for some friendly wildlife, although it is a well traveled area and lots of people many scare off any visitors. We loved stopping to look out on the boardwalk you'll encounter. We saw lots of butterflies and birds in this area.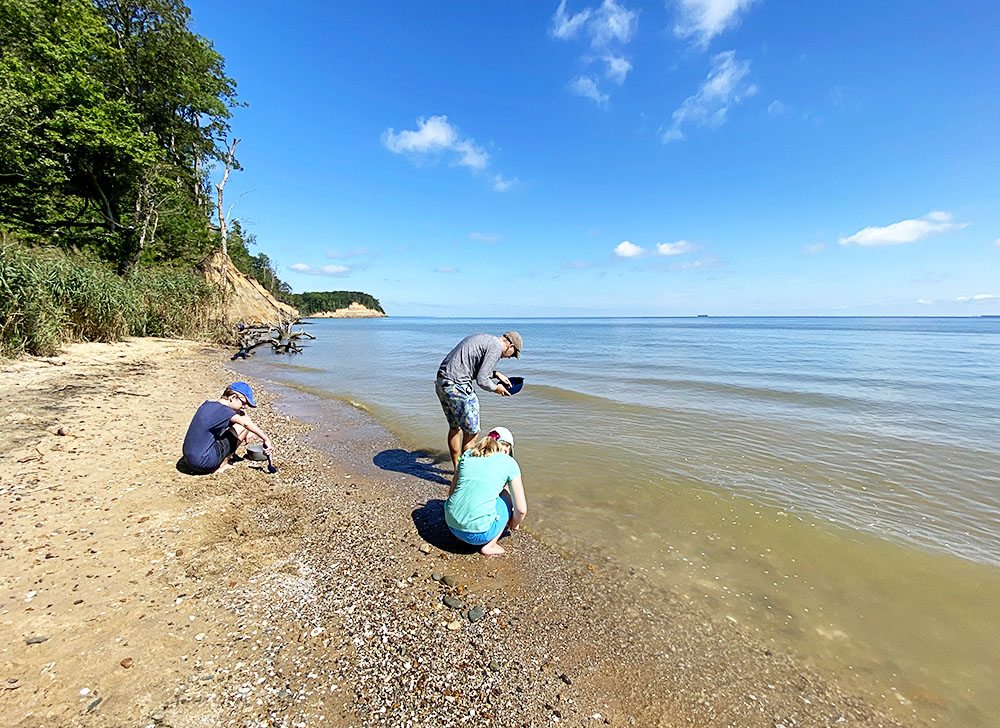 Fossil Hunting at Calvert Cliffs
Once you reach the Chesapeake Bay it's time to start hunting for fossils. We found a bunch of shark teeth, some nice size and some small, as well as some other fossils. We brought a few shovels and a sifter with us, but lots of the items could be found just looking along the shore line. Try to time your visit around low tide so you have a little more beach area to explore. You're allowed to keep any shark teeth or fossils you find at Calvert Cliffs.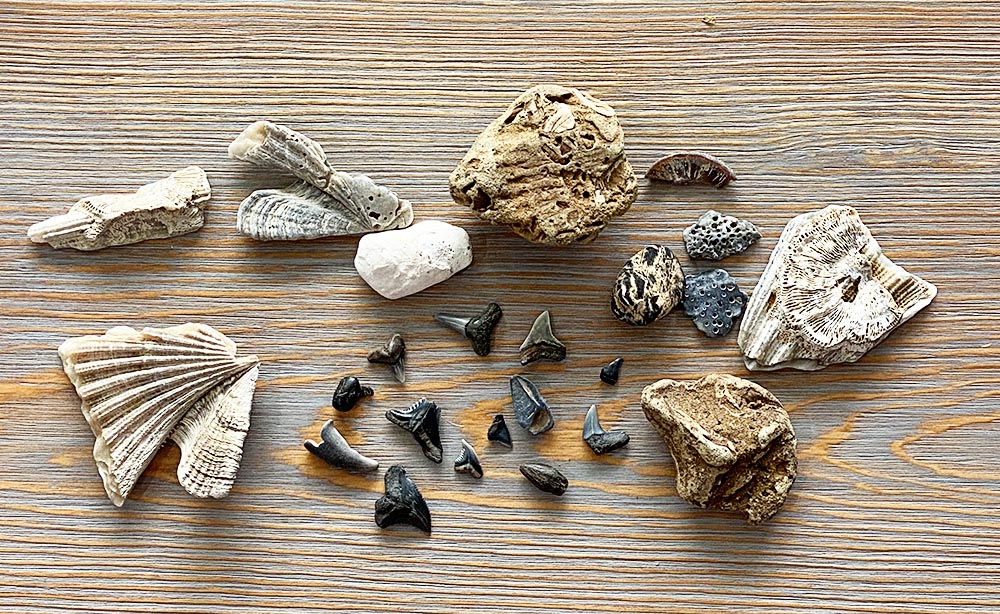 After hunting for fossils we make the hike back to the parking lot and enjoyed a picnic lunch. The park also has a playground, bathrooms, fishing and over 13 miles of hiking trails so there's lots to do if you're interested in spending the day at Calvert Cliffs. Of all the state parks we've visited, I'd have to say Calvert Cliffs was one of my favorite.