When we set sail on our Alaska Cruise, I didn't realize how many opportunities the kids would have to earn Junior Ranger Badges in the National Parks we would visit. Our kids earned a total of 8 badges, although a few of them we mailed in. Here's our ultimate guide to earning badges on your cruise.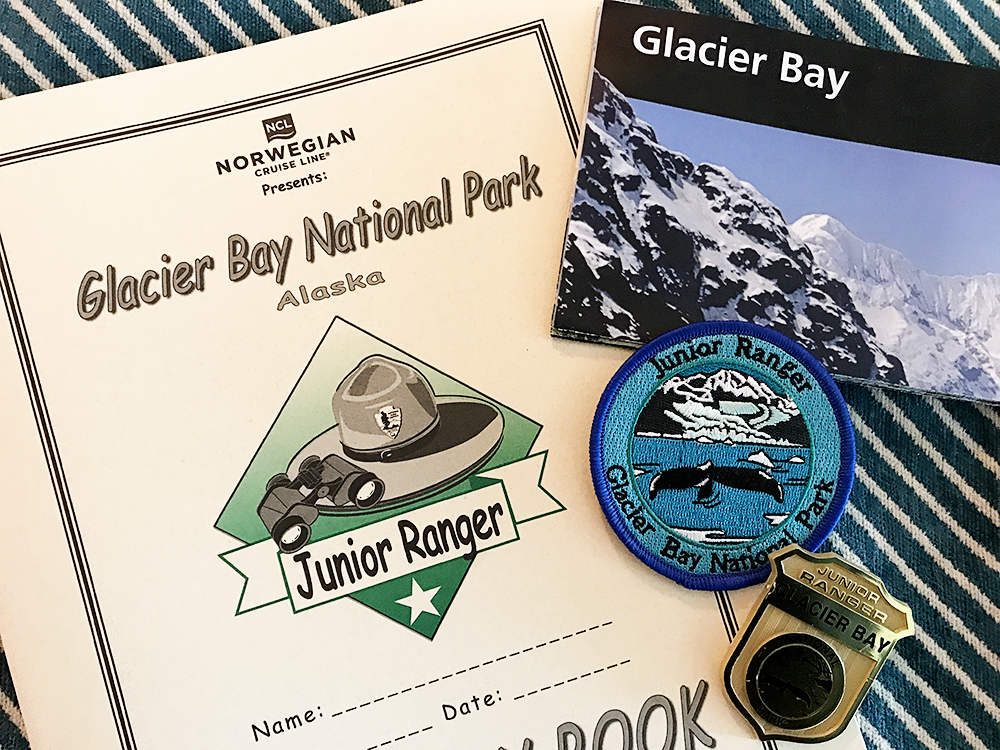 Glacier Bay National Park
Alaska Junior Ranger Badge #1
I'm going to start with the easiest Alaska Cruise Junior Ranger Badge and for us Glacier Bay National Park was at the top of that list. Since you cruise through Glacier Bay National Park, Rangers actually climb aboard your boat and do programs for the kids so they can earn their badges. Be sure to check your activity schedule so you don't miss it. They gave the kids books to complete when we left, but attendance at the program was all that was required.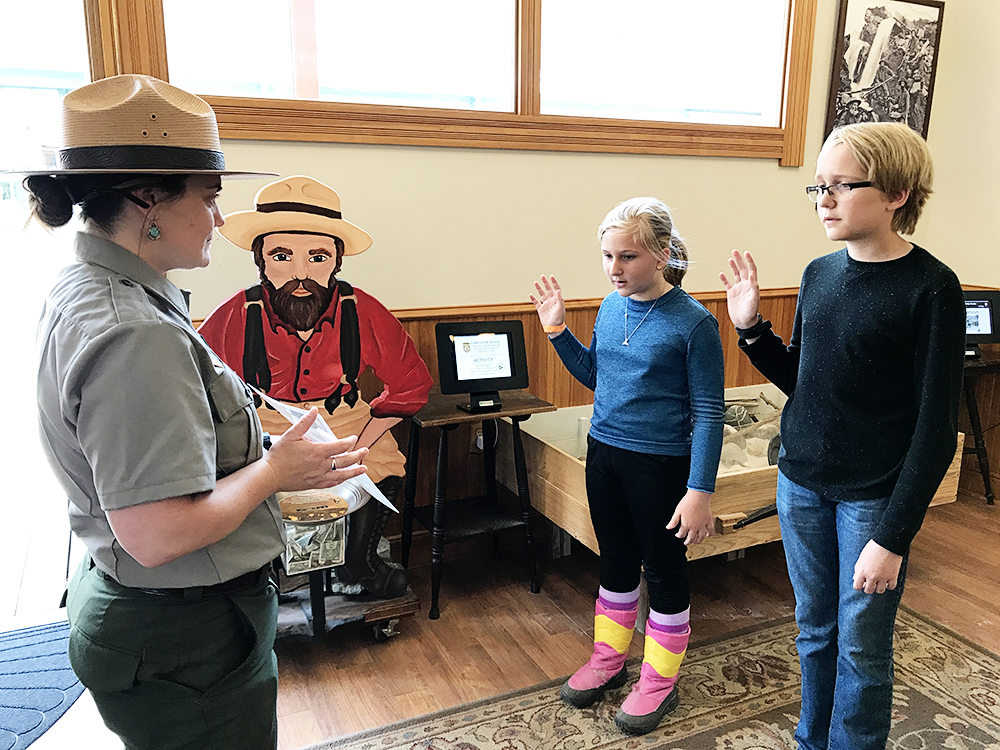 Klondike Goldrush National Historic Park
Alaska Junior Ranger Badge #2
If you're cruising Alaska you're probably going to stop in Skagway. Klondike Goldrush National Historic Park encompasses all of downtown Skagway, which is about 4 square blocks. It's virtually impossible to visit Skagway and not go through at least a portion of it. Kids can pick up a Junior Ranger booklet at the main visitor center, but they also have a Junior Ranger activity center which is awesome. At the activity center kids can complete a few activities on iPads and earn their badges.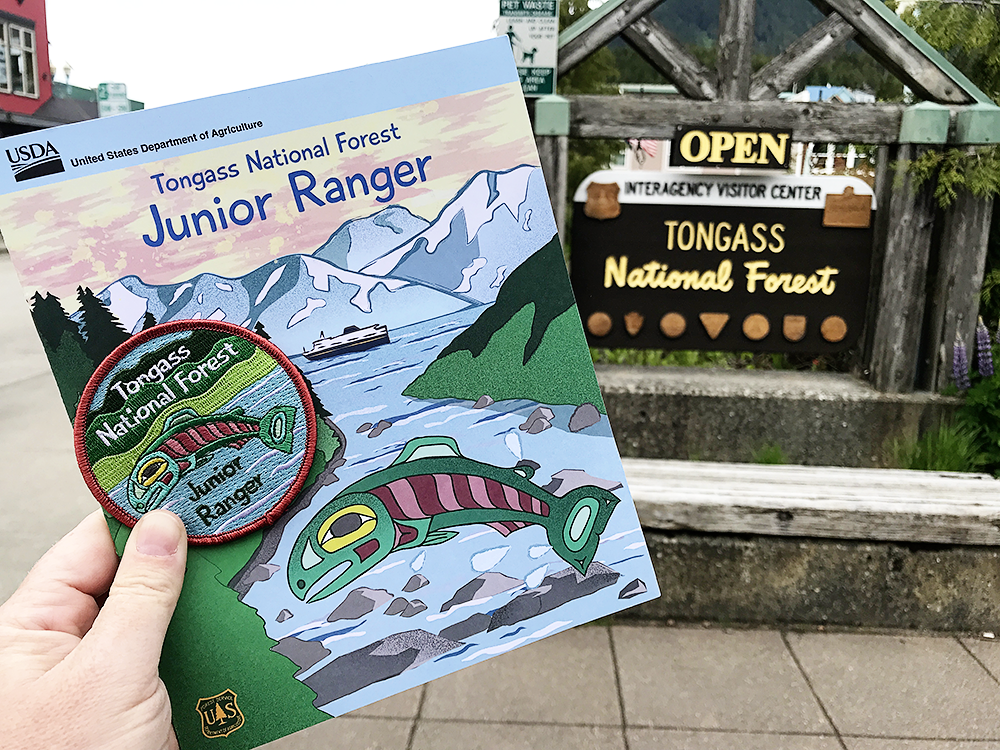 Tongass National Forest
Alaska Junior Ranger Badge #3
Ketchikan, Alaska is another popular port with the Alaska cruise ships and the Tongass National Forest Discovery Center is a great place to take the kids while you're there. There are tons of interactive exhibits and kids can earn a Junior Ranger patch while you're there. The activity center is easy to find, located right in the center of town and there is a small fee to enter, but if you have a park pass it's free. They were rolling out a new app while we where there that allows kids to complete additional activities and earn a different patch at the same time. Unfortunately, we couldn't get it to work correctly so we just completed the booklet.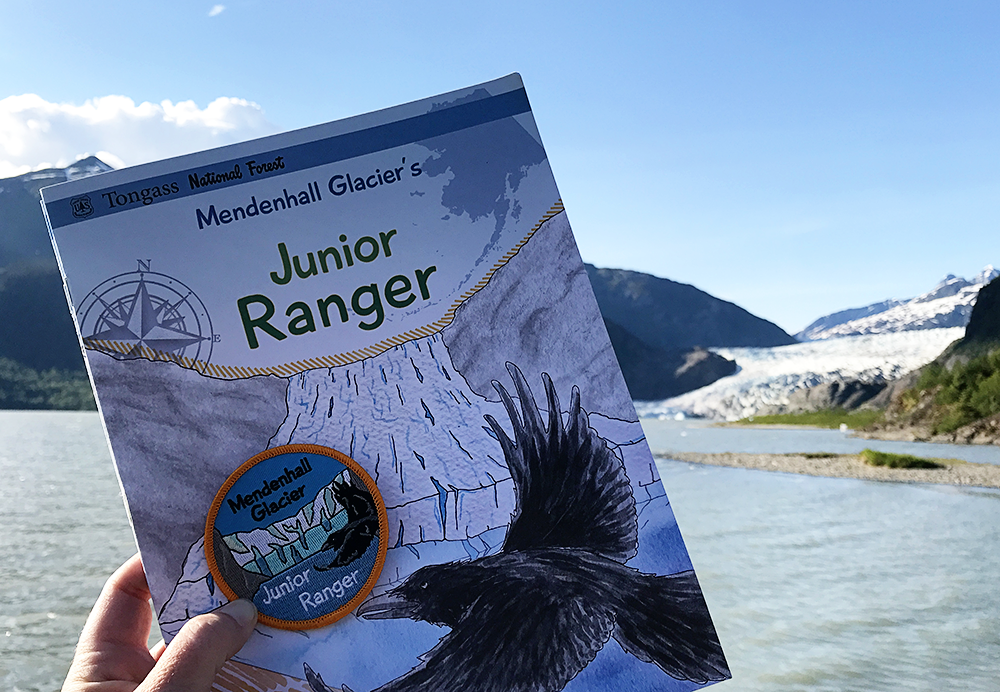 Mendenhall Glacier Recreation Area
Alaska Junior Ranger Badge #4
Mendenhall Glacier Visitor Center is located just outside of Juneau, Alaska. You have to take a shuttle or taxi to get there but it is well worth the trip. There are plenty of short hikes you can take and the visitor center is packed full of activities and knowledgable rangers. While we were there we saw a mama bear with a cub up in a tree! If you have other cruise excursions planned while you're in Juneau this might be a tough one to complete. We were in port long enough to take a helicopter tour and walk on a glacier and then catch a cab out to the Mendenhall Glacier.
Kenai Fjords National Park
Alaska Junior Ranger Badge #5
Many of the cruise itineraries leave or arrive in Seward, Alaska. If this is the case for you, make sure you build in time before or after your cruise to visit Kenai Fjords National Park. There are 3 areas where you can earn a Junior Ranger Badge, the visitor center in Seward, the visitor center at Exit Glacier, or you can take a wildlife excursion and a ranger will accompany your tour of the park by boat. We choose to visit the visitor center in town and then also take a shuttle out to Exit Glacier.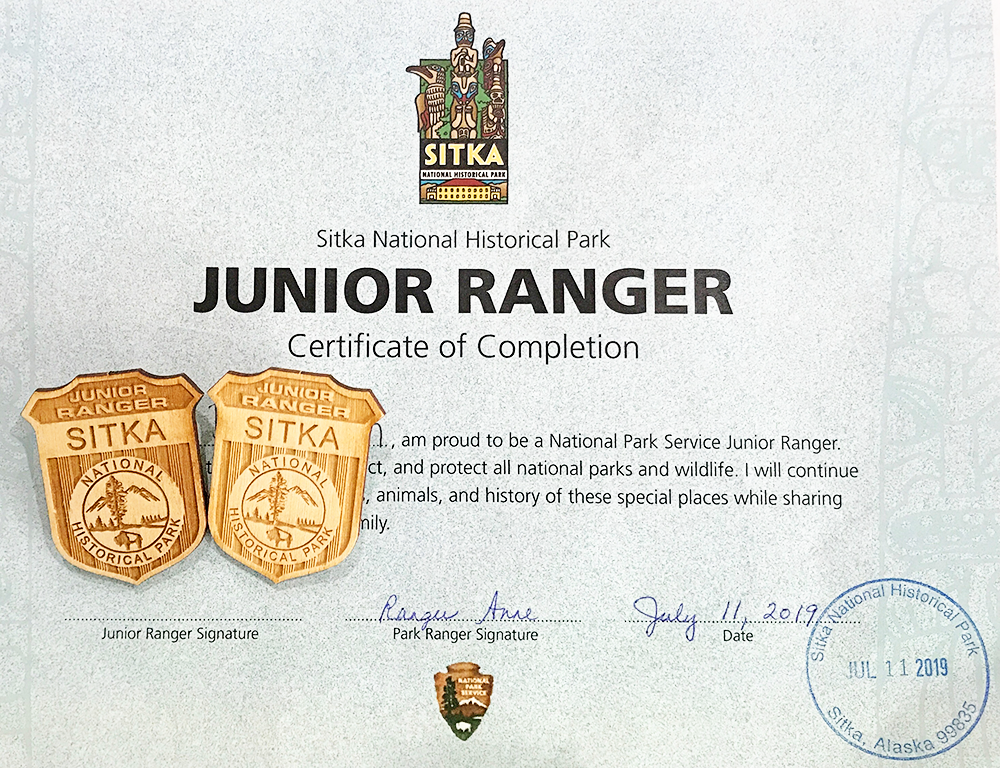 Sitka National Historical Park
Alaska Junior Ranger Badge #6
Sitka National Historical Park is one of those ports that isn't very common, so it's possible that your ship won't stop at it. If you don't have the opportunity to complete this Alaska Cruise Junior Ranger Badge, don't worry. Ours didn't, but I had done some research ahead of time and knew we'd have a few days at sea and want to fill some time with the kids so I downloaded and printed the Junior Ranger book ahead of time and then we mailed it in when we returned from our trip. The book is fairly easy to complete and a lot of the content was covered at our visits to the other Alaska National Parks.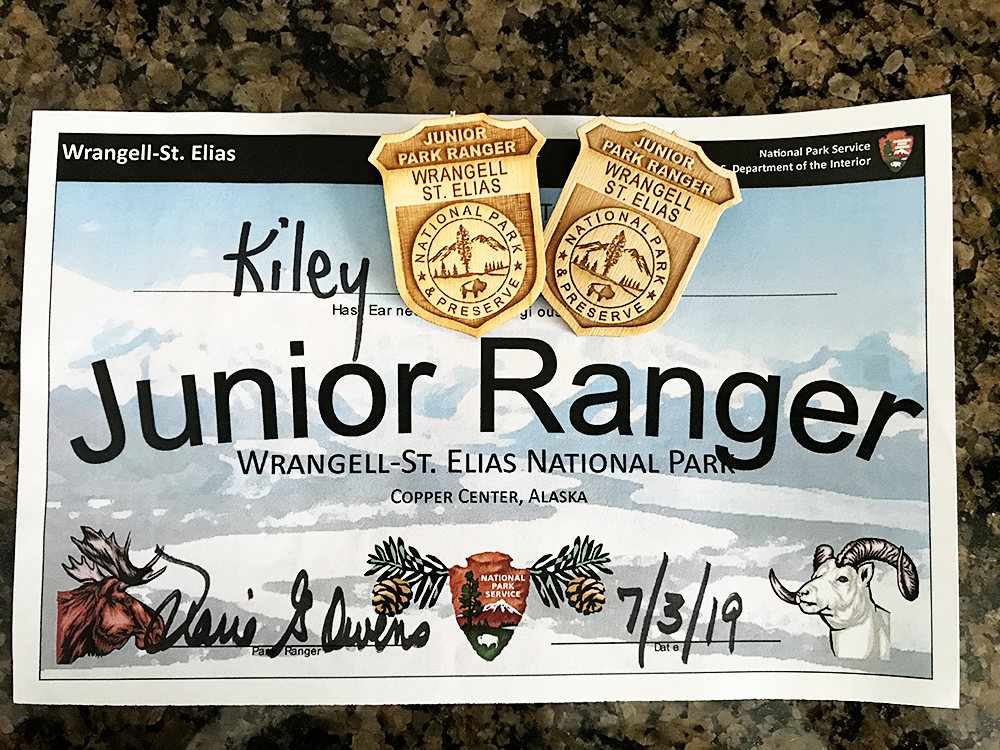 Wrangell St. Elias National Park
Alaska Junior Ranger Badge #7
Wrangell St. Elias is the largest National Park in the United States, but our cruise ship didn't dock at it. This was another booklet that I printed ahead of time and we completed one of our days at sea. Our ship actually sailed past the Wrangell and St. Elias Ranges and since it was a clear day you could see them from the ship. This was a great tie in to all the other activities we had completed at our various ports.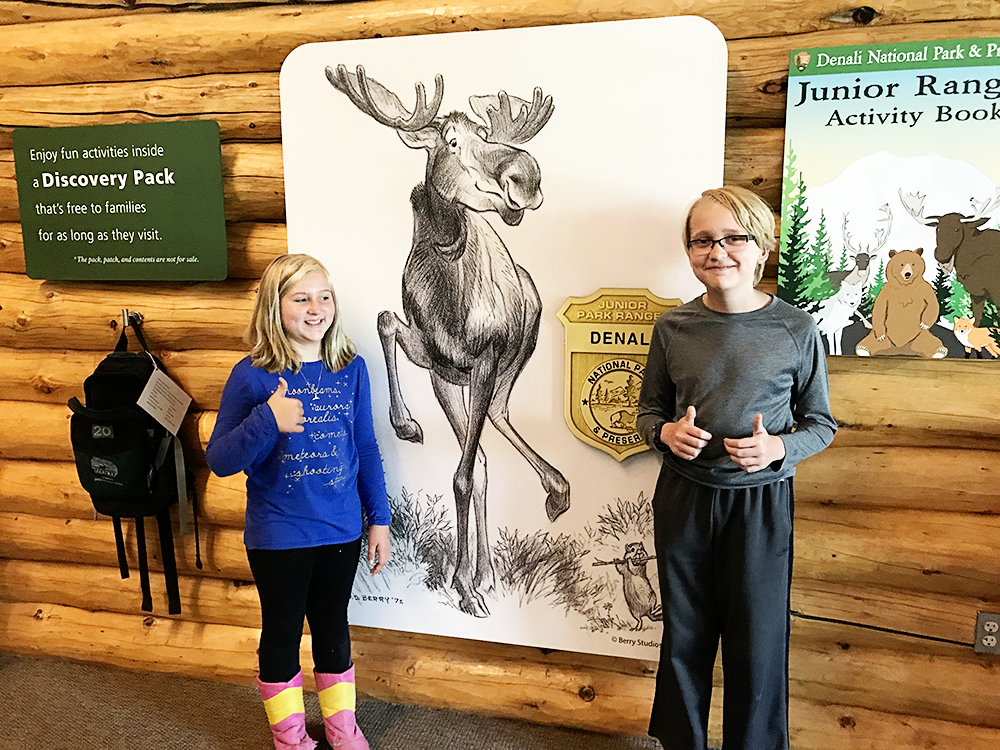 Bonus: Denali National Park
Alaska Junior Ranger Badge #8
Your cruise is never going to take you to Denali, but I'm including it on my list, because I really believe it you go all the way to Alaska for a cruise, you should take a few days to get up to Denali to visit. It was one of our most favorite parks (ever), and there is so much to do and see.