We were provided complimentary tickets for Capilano Suspension Bridge Park in exchange for review. All opinions are my own.
Set just outside the hustle and bustle of downtown Vancouver, Capilano Suspension Bridge Park is an oasis of nature combined with the thrill of suspension bridges. We spent the better half of a day there on our recent trip and it was by far one of the highlights of our time in Vancouver.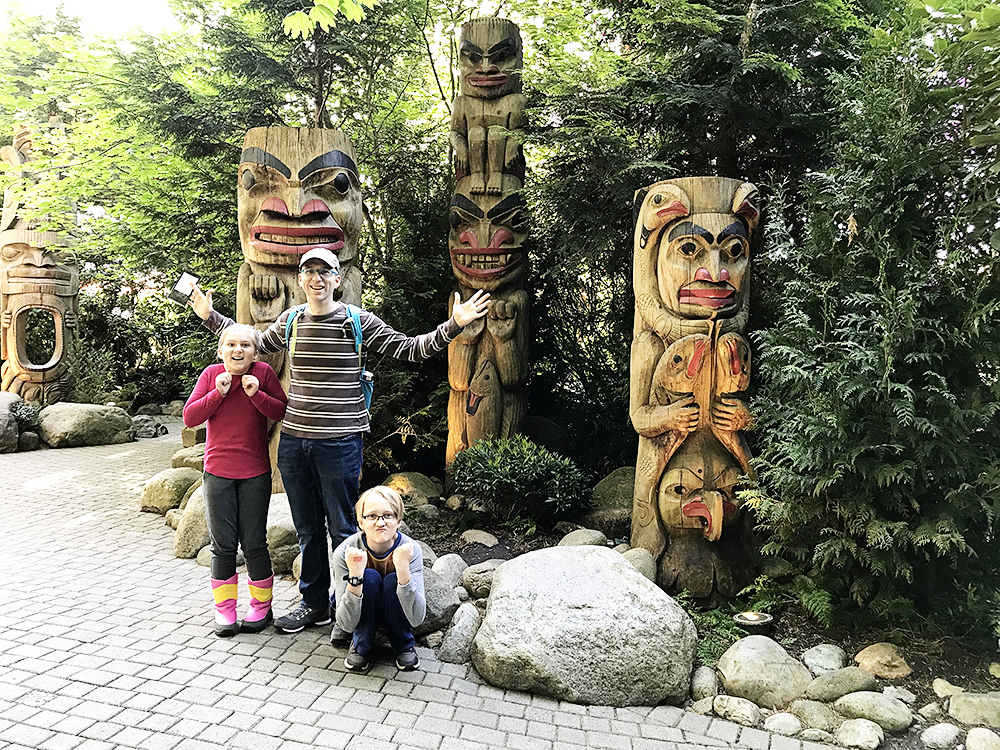 When you arrive at Capilano Suspension Bridge Park you're introduced to the area through a series of educational signs and even a few totem poles. Since this was the first attraction we did while in the area, it was the first time these Florida kids got to see totem poles and learn about the area.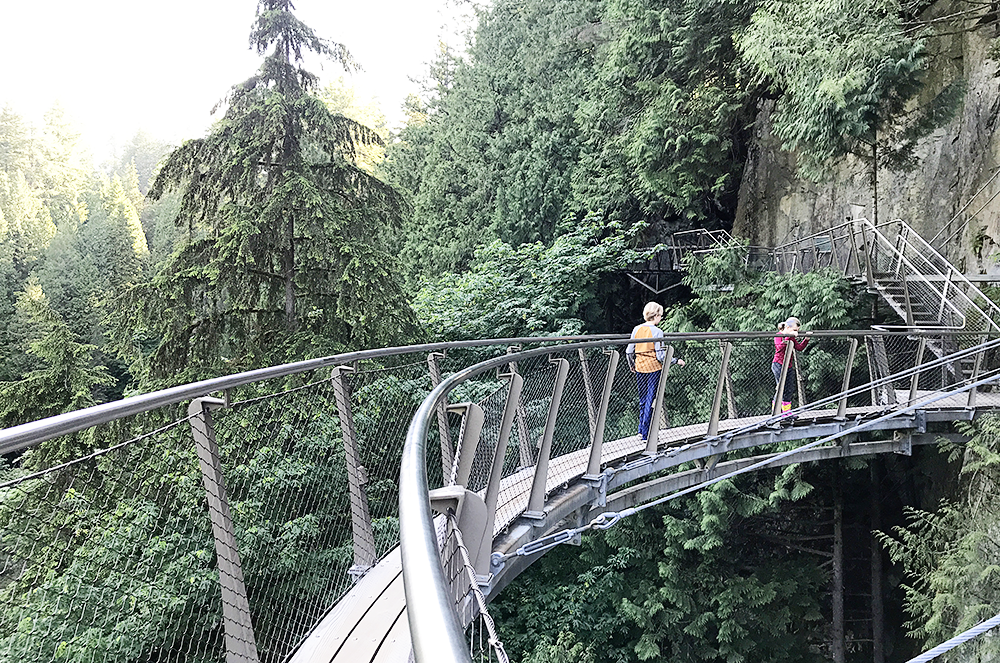 Be sure to grab a map when you get to the park because it is far larger than I expected. Once you get through the beginning of the park you can go across the large suspension bridge, or you can head off to the right to the Cliffwalk. One of my suggestions for visiting Capilano Suspension Bridge Park is to do the Cliffwalk first. We explored the area for 30-45 minutes and never saw another person. It was a great opportunity to go slow with the kids and make lots of stops to take in the view.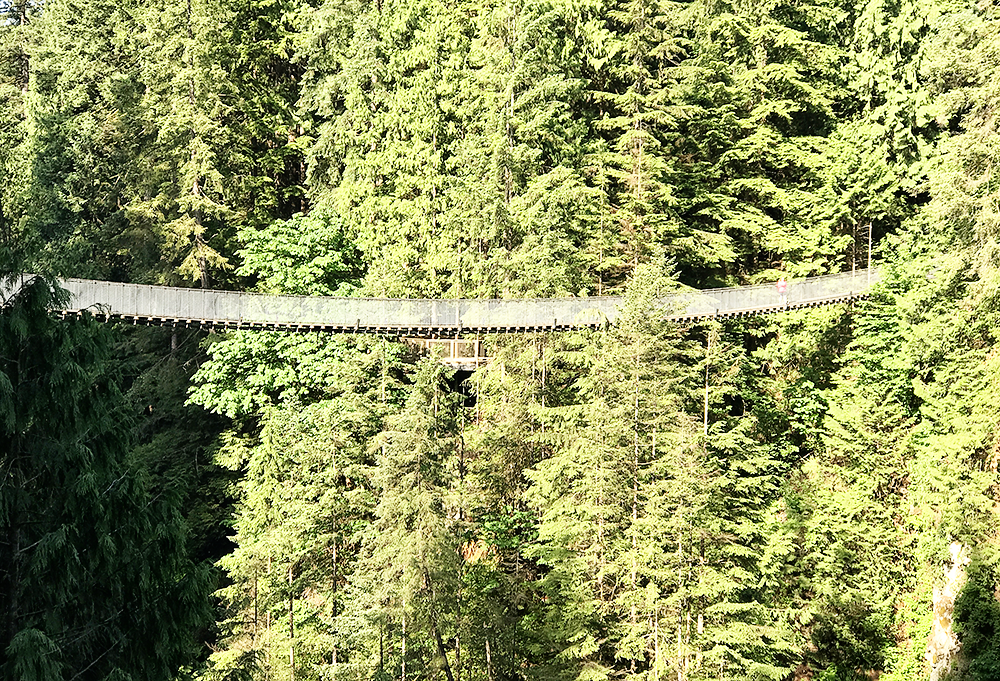 The Cliffwalk also gives you a stunning view of the suspension bridge! After spending an hour exploring the Cliffwalk and hitting the bathroom we headed across the Capilano Suspension Bridge. The bridge stretches 450 feet and hangs 230 feet above the Capilano River.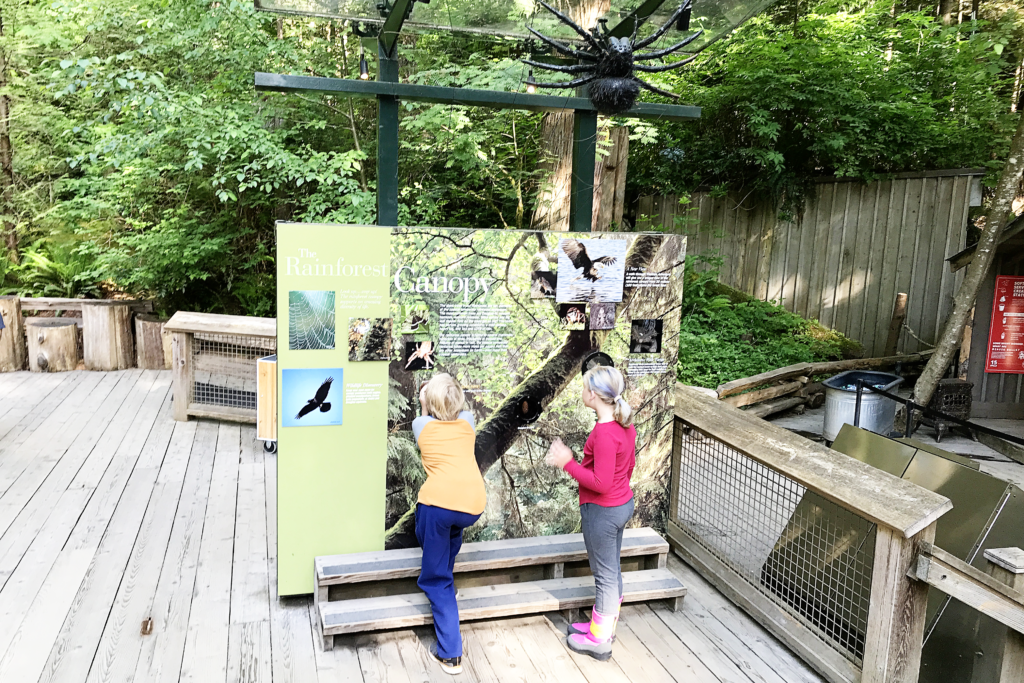 Once you get across the bridge there's so much more to do and see! We were honestly shocked by the amount of activities encompass the park.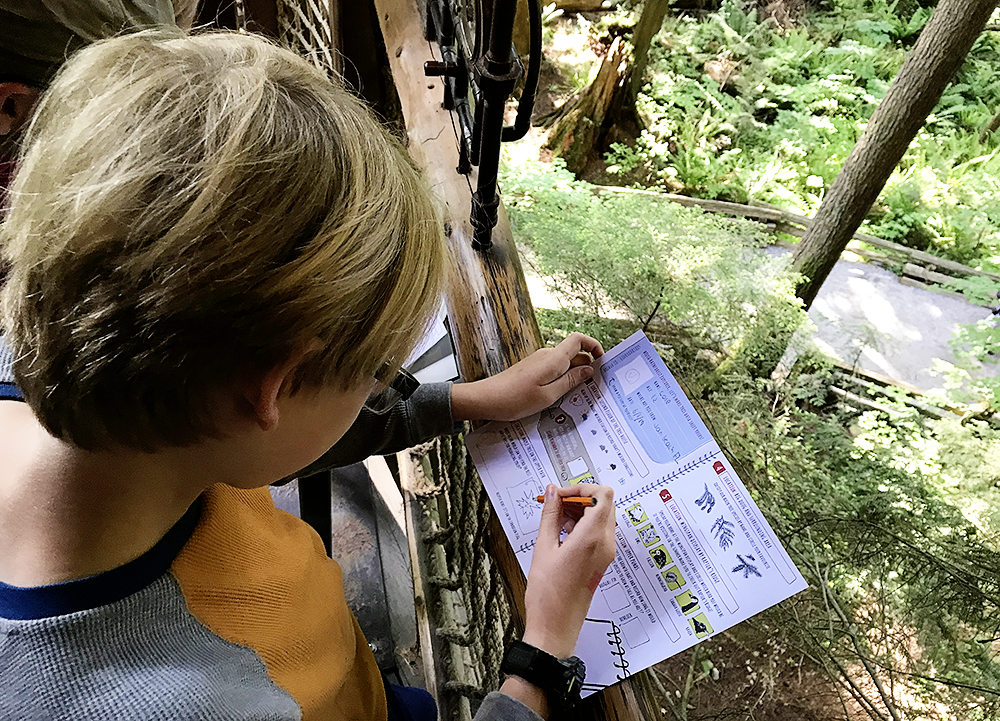 We headed to Treetops Adventure where the kids picked up activity books to complete while we explored the area. If you've ever done a Junior Ranger Book at a National Park then they're similar to that and when they turned them in they earned a cool pin.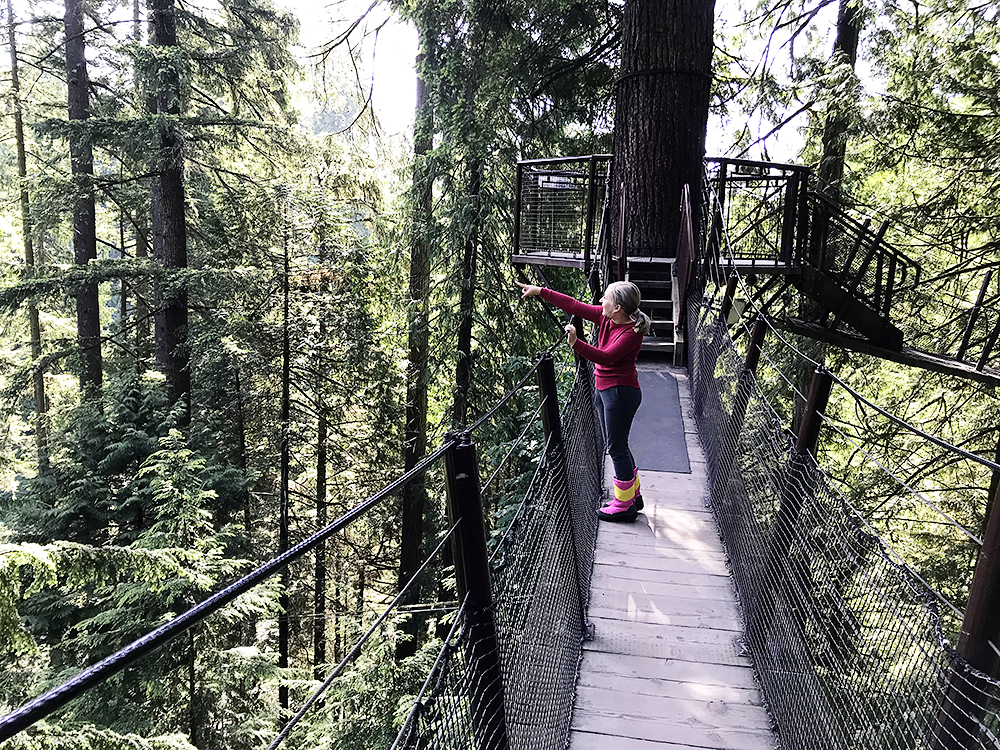 Treetops Adventure can best be described as a real life Ewok village. You go from tree to tree via suspension bridges hanging in a stunning forest of Douglas-fir trees.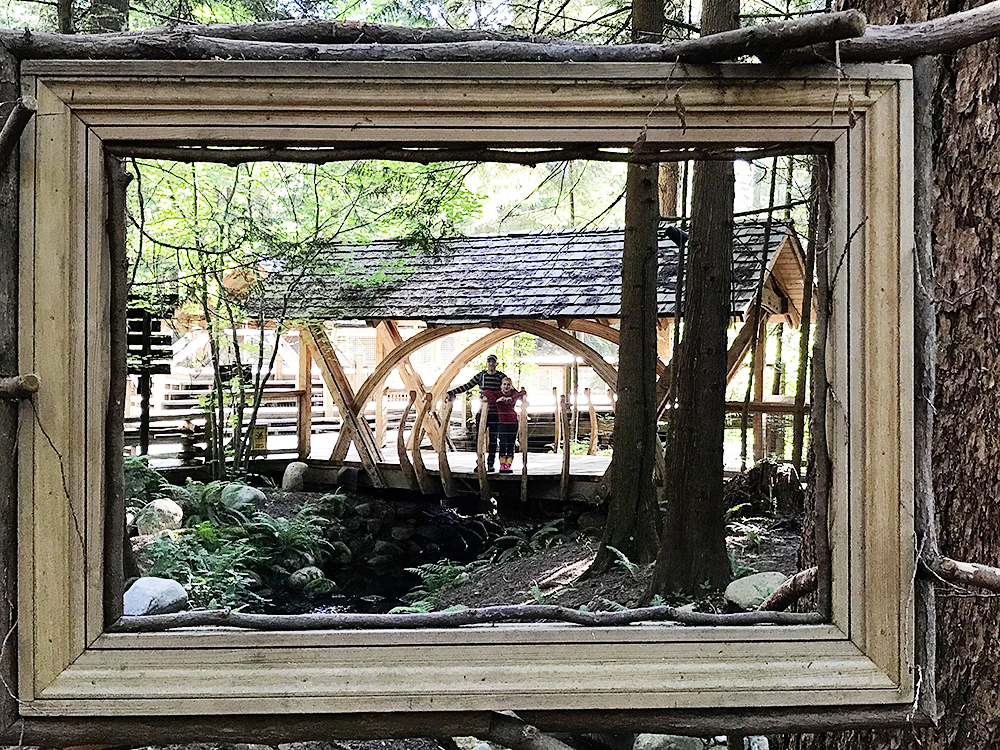 If heights and bridges aren't your thing then don't worry there are tons of nature trails and presentations you can attend while keeping your feet on solid ground.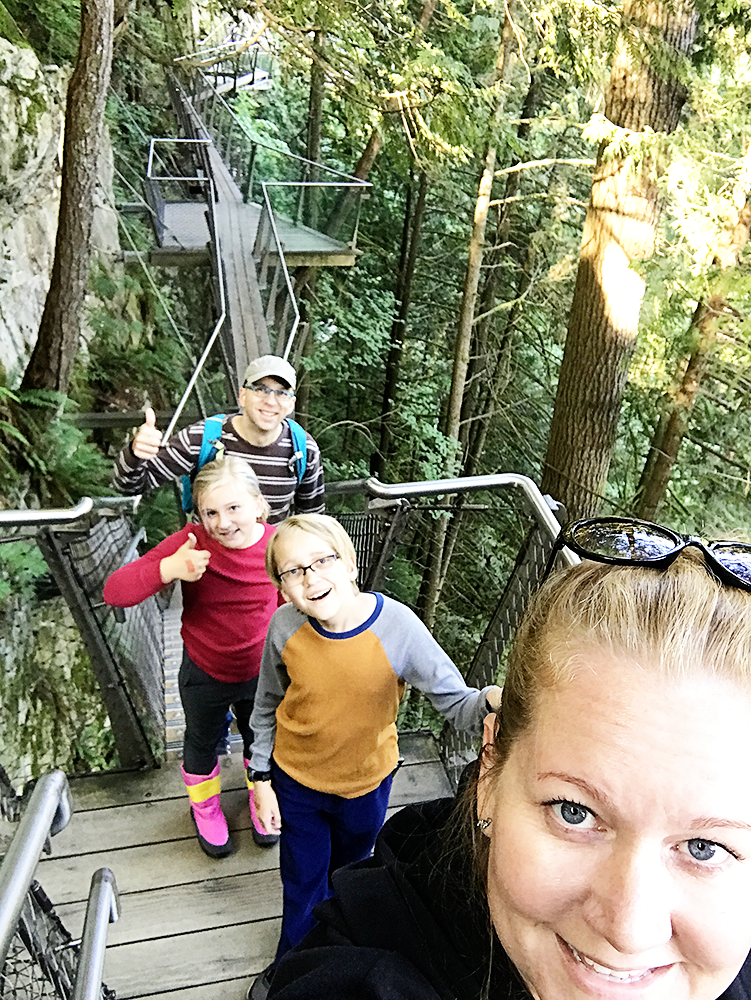 Go early! We were there when the park opened and by the time we left around 1pm it was getting very crowded.
Wear good walking shoes! This is not a place for flip flops.
Pack some snacks and drinks! They do offer several spots where you can purchase concessions and food, but if you're on a trail and want a snack you won't want to walk all the way back to find them.
Check out their special events! We visited during the spring, but we're dying to go back during the winter to see their Canyon Lights display.