After our experience Sleeping Over at SeaWorld last year, we decided we wanted to try another overnight adventure right here in Florida. Since Kiley is currently obsessed with space, we decided on the Kennedy Space Center Family Sleepover.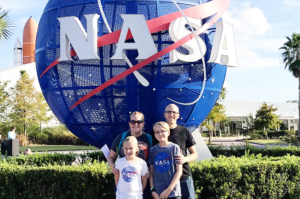 We arrived at 4pm for our family sleepover. Kennedy Space Center runs theirs similar to SeaWorld, you arrive in the evening, spend the night, and then have the whole next day to explore the park on your own.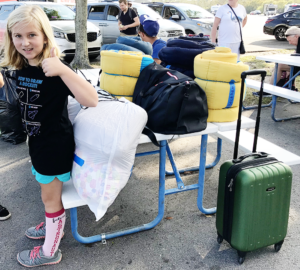 We unloaded our gear at the picnic tables outside the park. This is where you meet your educational guides for the evening. Just an FYI, Kennedy Space Center does not provide any type of mat for your sleepover. So if you don't bring your own air mattress you'll be sleeping on the concrete floor.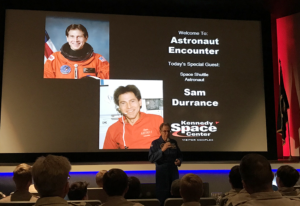 After you load all your gear onto the Kennedy Space Center bus, it's time to explore. We started with a scavenger hunt in the Rocket Garden and then went to an astronaut encounter. Sam Durrance spoke with the group about his experience in space and took questions from the audience.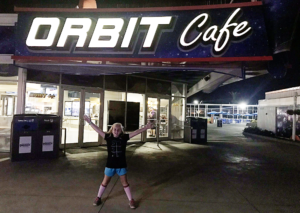 After some fun it was time for dinner. All the families eat at the Orbit Cafe in a buffet style meal. I thought the selection was much better than SeaWorld, which was just pizza. They had corn dogs, pizza, pasta, salad and a few other options.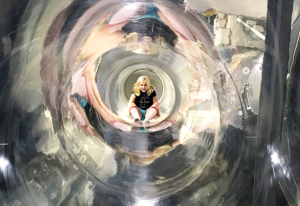 After dinner we headed into the Atlantis building where we did a group tour and explored the exhibit. There was lots to see and it was fun having the whole place to ourselves.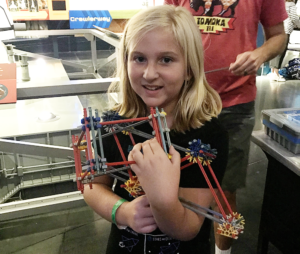 The educational team even had a STEM activity for the kids. They worked in a group and had to build a truss that would hold weight. Then they tested them with real weights until they broke. It was so much fun for the kids to build and the parents even loved watching the testing.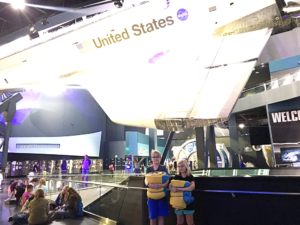 We had a late night snack and unloaded all our gear from the bus. You have to carry all your items into the building yourself so make sure you can manage everything in one trip. As I mentioned, there are no mats of any kind given out for the sleepover so make sure you pack an air mattress. There were plenty of outlets to plug in, but we also took a multi-plug adapter, which did come in very handy.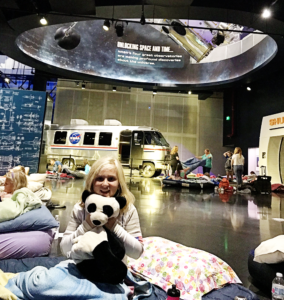 Finally it was time for lights out. My one critique of the Kennedy Space Center Family Sleepover is that it's almost too quiet. Because it's such a huge room with concrete floors, sound travels easily, so if anyone snores or has a cough you'll hear it. I would recommend you bring some ear plugs or even a small white noise machine.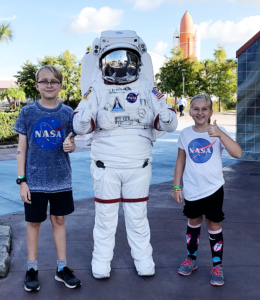 The next day we were given breakfast, another buffet at the Orbit Cafe, and loaded all our gear back into our cars before being allowed back in to enjoy the park. Overall this was a great experience and everyone, kids and adults, loved it! Our experience was out of this world! If you ever have a chance to attend a Kennedy Space Center Family Sleepover, I highly recommend you go