We were provided a media rate for Redline Rafting Snorkel Tour in exchange for review. All opinions are my own. 
One the highlights of our trip to Maui was snorkeling in all the diverse areas of Hawaii. We chose to take a tour with Redline Rafting because of their limited group size. With only 24 spots per tour, we knew it would be a much more intimate experience. We also loved that it was located near Wailea Beaches, since that's where we were staying for the week.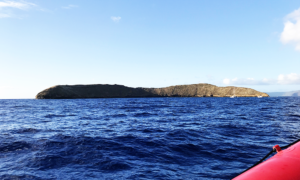 Our first stop on our tour was the Molokini Crater. We headed out early and breakfast was provided on the boat so we could be one of the first to arrive at the crater. Rumor has it that it gets busy as the day wears on, but when we arrived we were the only boat there. The Molokini snorkeling tour is by far one of the highlights of our trip to Maui.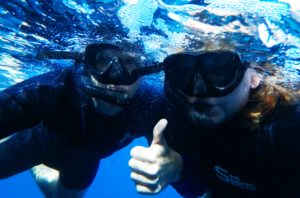 One of the things we loved about touring with Redline Rafting was that they provided all our equipment. Masks, snorkels, fins and even wetsuits were all given out before we entered the water. They also had floatation straps if you didn't feel comfortable swimming around in open water.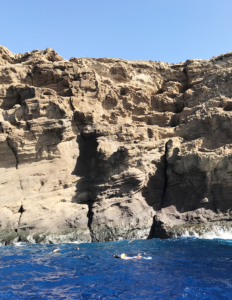 After snorkeling in the crater, we had the opportunity to snorkel around the back side of Molokini Crater. Big boats can't get back there so the smaller, Redline boat was perfect to take us right up to the side of the crater.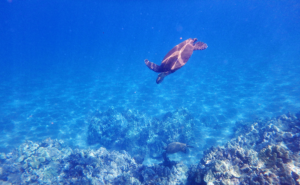 Our final stop on the tour was Turtle Town. You actually visit a spot a little past Turtle Town, which was great because it wasn't very crowded. Here we floated on top of the water while these huge green sea turtles swam past and even under you. These turtles are protected and touching them is punishable by a fine, so you really just want to relax and sit back and observe. I honestly couldn't believe how close they came to us.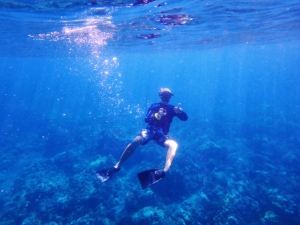 Our tour with Redline Rafting was one of the highlights of our trip to Maui. Each tour is a little different based weather and seas and what areas the boat can visit. We're already planning a trip back to Maui so we can do their whale watching tour!