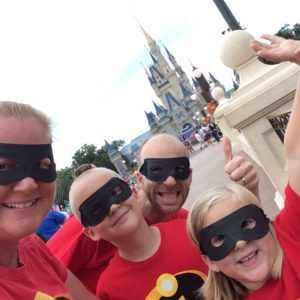 If you're looking for an incredibly easy family costume (see what I did there), check out our Incredibles outfits from a few years ago. We actually wore these to Micky's Not So Scary Halloween Party ON Halloween and they were a hit. I was looking for something that was a costume, but was still easy to wear and allowed us to run around the park. You can get Incredibles shirts here, and add a mask if you'd like, although it's not really necessary.
You can see other family costumes we've done here: Cowboy Family, Beach Family, StarWars. There's nothing I love more than a great family costume!
---
Some of these links are affiliate links, but I stand behind my recommendation of these products.