After our camping trip up to Maines this summer we decided to stop in Hershey Pennsylvania for a few days. Having visited Orlando many times, we're experienced theme park guests but we didn't expect to be so impressed by Hersheypark, Hershey Lodge and Hershey World. Here's just a few of the reasons Hershey Pennsylvania ROCKS!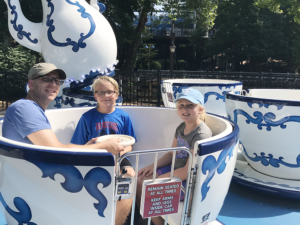 Hersheypark has TONS of Rides for Kids of all Ages
We were so pleasantly surprised by the variety of rides at Hersheypark. There really is something for everyone from toddlers to teenagers. In fact, there are over 70 attractions all housed in Hersheypark. On hot days you can keep cool at the 11 acre water park that's included in your admission ticket.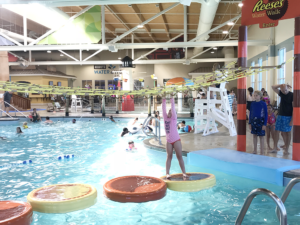 If you have the opportunity to stay at Hershey Lodge during your visit, you should jump at it. The indoor water park and pool make it well worth the splurge. In addition to the pool and splash park (with slides) where the kids can play rain or shine, there's also food options and a bar.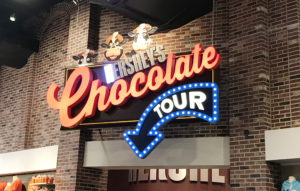 Free Tour at Hershey Chocolate World
You could easily spend a full day at Hershey Chocolate World with all the different attractions. But even if you only have a little bit of time for a visit, it's worth stopping by to do the free tour. My kids loved it so much we did it twice. You take a ride through a factory and learn about the chocolate making process. The best part, at the end you get a small candy bar!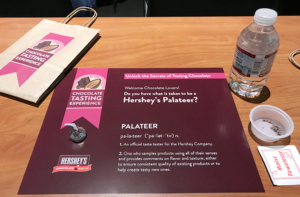 So Many Chances to Taste Chocolate
If you love chocolate then Hershey Pennsylvania is the place to visit. Every restaurant and attraction we visited has some type of chocolate offering. We did the tasting experience at Hershey's Chocolate World, drank chocolate martinis and frozen hot chocolate.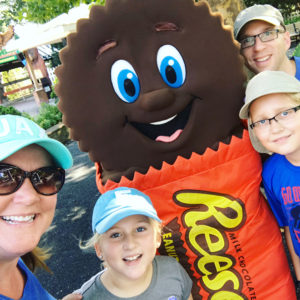 A Unique Family Friendly Vacation
Having visited all the Orlando area parks, we found Hersheypark and the Hershey area to be even more exciting, with a wider variety of activities for kids of all ages. We loved how there were attractions from toddlers and rollercoasters for the big kids. Not to mention all the chocolate! If you've never visited Hershey Pennsylvania, we highly recommend you check it out.
---
Thank you Hersheypark for the complimentary tickets and media rate for the hotel. All opinions are my own.