This summer we loaded up the camper and headed north to Smoky Mountain National Park, Shenandoah and Acadia. It's not the first time we've spent the summer exploring a variety of parks, but it is the first time we've taken the camper.
Destination: Shenandoah National Park
Date of Visit: July 2018
Kids: Cole (age 11) & Kiley (age 8)
Length of Stay: 5 Days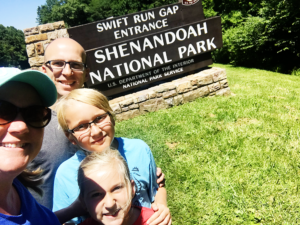 After 5 nights of camping at Great Smokey Mountain National Park, we made our way to Virginia for another 5 nights of camping at Shenandoah National Park. We got up and packed up the camper super early so we could get on the road and get there with plenty of time to set up. It was about a 6 hour drive between the two parks.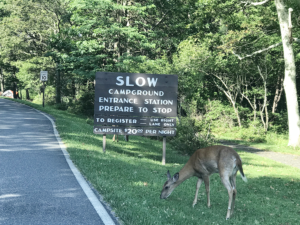 We camped for 5 nights at the Big Meadows Campground, which is located in a pretty centralized area of the park. It also has pay shower facilities and laundry, which is why I picked it. After 5 nights in Great Smokey Mountain with no showers/laundry, it was a good choice.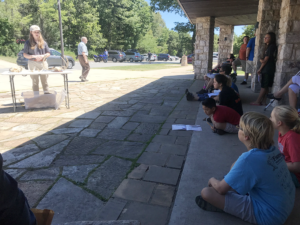 One of the things that we loved at Shenandoah is that there was so much to do within the park. There are several visitor centers, all with programs going on throughout the day. There are tons of hiking trails, from easy to difficult. Lots of waterfalls to see, along with tons of deer and bear. There's also several different lodges with dining options for those times we didn't feel like cooking at the campsite. You really can spend a week inside the park and never get bored.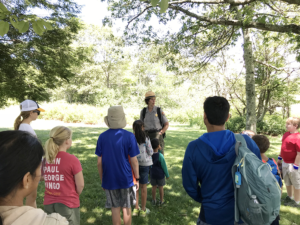 We did 3 programs while we were at Shenandoah National Park. 2 of them were Junior Ranger Programs and 1 of them was a night sky program with a representative from NASA. All 3 of them were fantastic!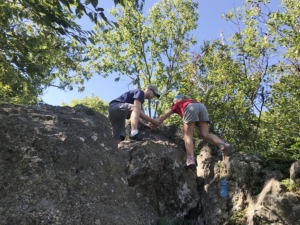 We did several great hikes while in Shenandoah. Our favorite was Bearfence Mountain. This hike is challenging, yet fun. It requires close supervision of kids because there are some places where you can fall and get hurt.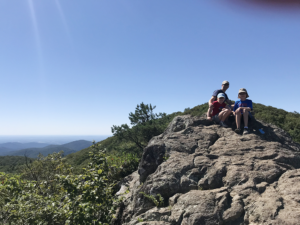 The view from the top is well worth the scramble. Pack a snack for a reward when you get to the summit and make sure you take plenty of water, you'll want it.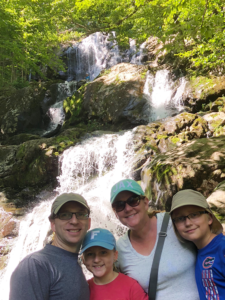 The other hike that we did that we loved was Dark Hollow Falls. Probably the most iconic hike in Shenandoah, this trail can be fairly crowded. Even with several other families hiking, we did see lots of deer in the woods. This was a fun trail that was less than 2 miles round trip.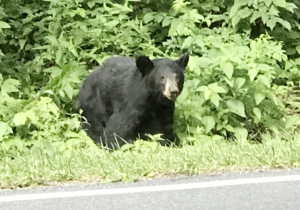 If you follow our blog you know we've visited lots of National Parks. Shenandoah had by far the most wildlife we've ever encountered in a park. There were deer wandering through our campsite, bear hanging out across the road from our site and tons of birds, fireflies and chipmunks.