Over spring break we headed down to the Keys for 10 days of family fun. While we were there we camped for 3 nights at Dry Tortugas National Park and also visited Biscayne National Park and Everglades National Park.
Destination: Dry Tortugas National Park
Date of Visit: March 2018
Kids: Cole (age 11) & Kiley (age 8)
Length of Stay: 4 Days & 3 Nights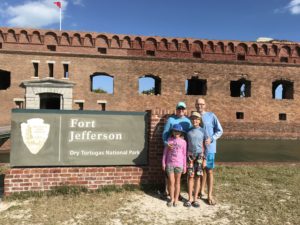 There are a few different ways you can choose to visit Dry Tortugas National Park. You can take the ferry for a day trip or you can take the ferry and camp for up to 3 nights. You can also arrive and camp by private boat, and you can visit for a day trip via seaplane. We took the ferry, so for this blog post, I'm  going to focus on what you would want to know if you were visiting just for the day. I'll write a completely separate post about the logistics of camping.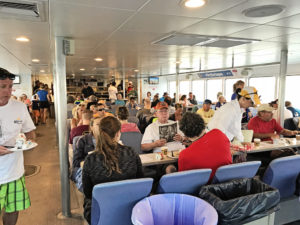 The Yankee Freedom III is the charter ferry and authorized concessioner of the National Park Service and operates daily service to Garden Key, which is where Fort Jefferson is located. The ferry books up early. There are a limited number of seats per day and when they're full, you have to choose a different day. I recommend you book as soon as you think you might be visiting.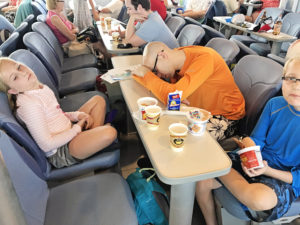 The boat ride out to Garden Key is no joke. Dry Tortugas National Park sits approximately 70 miles west of Key West and the trip takes around 2 hours. Even in calm waters it can be a bouncy ride and unpleasant for anyone prone to seasickness. Since half of our family tends to get car sick we dosed everyone with dramamine before leaving port. I love the Dramamine for Kids because it is chewable and fast acting. As you can see, it tends to make you a little sleepy so there was some napping on the boat.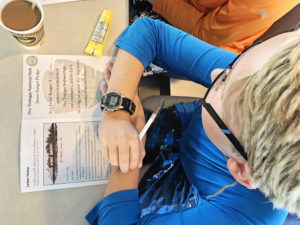 You get breakfast on the ferry and they even have Junior Ranger books so you can go ahead and start completing some of the activities while you're waiting to arrive. They also have free coffee all day long, so even if you're camping you can come onto the boat and grab a warm cup of coffee once the ferry has docked.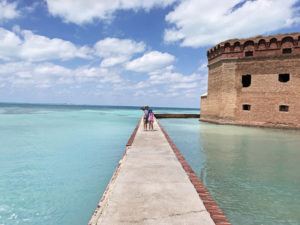 Once you arrive at Garden Key the fun really begins. If you've taken a day trip, you have approximately 4.5 hours to make the most of your visit to paradise. You can spend some time walking along the moat wall. You also get a lunch on the boat. You can easily explore a little and then head back to grab some food and find a nice shady tree to eat under.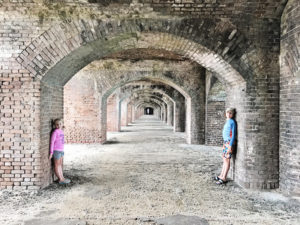 Be sure you explore the inside of the fort, including Dr. Samuel Mudd's cell. There are a few guided tours of the fort and they were very informative. If you're just on the island for a day trip, I recommend the shorter of the fort tours. You really don't want to spend too much time inside the fort and miss out on the beautiful beaches.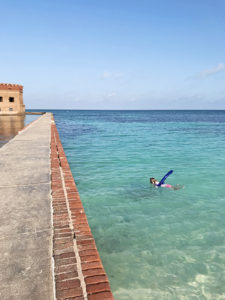 You can spend some time snorkeling in the crystal clear waters surrounding the fort. The Yankee Freedom III provides snorkel gear as part of your ferry package. We brought our own because we were camping and wanted to have it available after the ferry left for the day.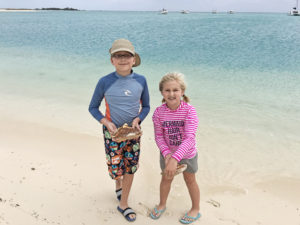 There was so much to explore at Dry Tortugas National Park, it's hard to pick our favorite. We loved looking for shells and conchs (you can't take any souvenirs with you because it is a National Park).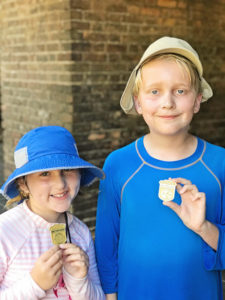 Don't forget to finish your Junior Ranger booklet and turn it in at the bookstore for a badge. After 20+ Junior Ranger badges, we agreed that this was the easiest booklet the kids have ever had to complete. Also, if you show your badge to the ferry captain when you get ready to head home, they'll give you a free ice cream!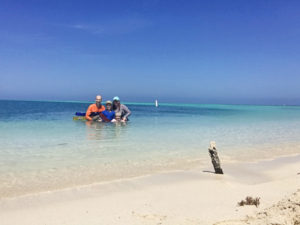 We loved our time at Dry Tortugas National Park more than I ever expected. Everyone had an amazing time and it's one that we'll never forget.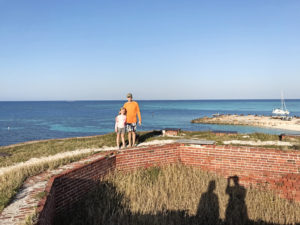 If you plan to visit Dry Tortugas, there's a few things you should be sure to bring with you. You'll want to wear a bathing suit preferably with a rash guard over it. You'll also need to bring a lot of sunscreen, I love the Neutrogena Beach Defense. I recommend you pack your own dramamine and a towel as well.
You can read more about our camping adventures at Dry Tortugas National Park in my other post!