Last week, in the wake of Hurricane Irma, we evacuated Jacksonville Beach for higher ground. Instead of just riding it out in town we decided to take the kids and have a little hurrication in Atlanta. On our list of places to visit was Zoo Atlanta. Since we're big fans of our local Jacksonville Zoo we thought it would be fun to see what Atlanta had to offer. Well Zoo Atlanta didn't disappoint, here are the top 5 things we loved during our visit.
1. Pandas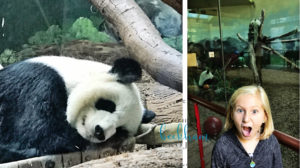 Oh. My. Gosh. Did you know that there are only 4 zoos in the US that have pandas? And did you know that Zoo Atlanta is the only zoo in the US with a set of twin panda cubs? Well if you're a 7 year-old girl obsessed with pandas, you probably know all sorts of facts and so much more. The giant panda exhibit at Zoo Atlanta is spectacular. You can see the pandas up close, playing and eating and napping. We looped back by 3 different times so we could see the twins playing.
2. The Shows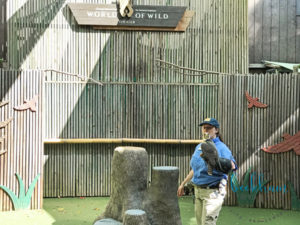 There were a wide variety of shows and programs offered the day we visited Zoo Atlanta. You can actually preview what's offered on their website and plan your own itinerary for the day. We decided to go to a program on birds and it was fantastic. The kids loved the entertainment and the knowledge of the zoo keepers. The zoo keepers even stayed around after the show to answer questions and let us get a close up look at the birds.
3. Naked Mole Rats

I realize naked mole rats might not be on everyone's list of top attractions, but for our kids they were a hit. Ever since visiting the Pacific Science Center in Seattle and seeing their elaborate naked mole rat set up my kids have been obsessed with them. One of our favorite books is the Naked Mole Rat Gets Dressed by Mo Willems. The set up at Zoo Atlanta was great. The kids loved crawling through the kid friendly tunnel to get a view of the naked mole rats.
4. All Rides & Attractions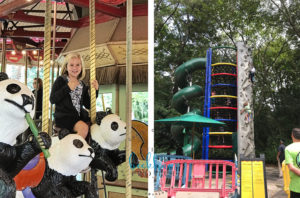 One of the things we loved about Zoo Atlanta was the wide variety of extra activities they had available. There was a carousel and train ride, which you find a lots of zoos, but they also had rock climbing and a canopy climber. In the hot months the kids can cool off in the splash fountain and for the more adventurous you can try out the treetop trail. Zoo Atlanta really does have a wide variety of attractions for kids of all ages.
5. It's Just So Much Fun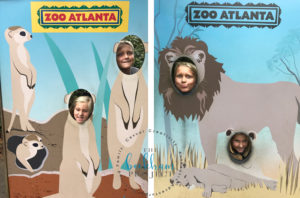 This is probably a total cop-out for our list, but it's true! We loved everything about Zoo Atlanta. From the free parking to the awesome playgrounds and exciting animals, the entire day was a blast. Whether your a local or just visiting the city, our entire family highly recommends you take a day and visit Zoo Atlanta.
Tips for Visiting Zoo Atlanta
Zoo Atlanta is suitable for all ages.
Zoo Atlanta is open 363 days a year, closed only on Thanksgiving and Christmas.
Plan to spend a minimum of 1/2 a day, you can easily spend the entire day.
Zoo Atlanta is part of the Atlanta CityPASS program. If you're going to be visiting several attractions consider purchasing a pass to save money on tickets.
Food IS allowed, there are picnic areas for dining in the zoo.
Carousel rides, giraffe feeding, and wild animal encounters are an extra fee.
Zoo Atlanta is a member of the Association of Zoos & Aquariums, if you have a zoo membership to your hometown zoo, you may be eligible for a discount.
Visit the Zoo Atlanta website for additional information and to purchase tickets.
Thanks to Zoo Atlanta for hosting our family during our hurrication. All opinions about how much fun we had are our own! This post also contains affiliate links.
SaveSave
SaveSave
SaveSave
SaveSave
SaveSave
SaveSave
SaveSave
SaveSave
SaveSave