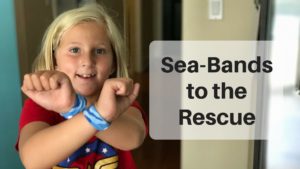 Last spring I got the call many parents dread. "Mrs. Beckham, I'm calling to let you know Kiley threw up on the bus." UGH. I almost thought she was kidding at first, but she wasn't. My 7 year old daughter had gotten carsick on the last field trip of the year. As I raced across town to pick her up, I called the pediatrician to see what I could give her for her motion sickness.
This was not her first time being carsick. It started a few years ago and at first I thought she was just making herself throw up to get out of her carseat. But this was the first time it had happened on the school bus and I knew we had to do something to keep her from getting sick again. Our doctor recommended I pick up some children's dramamine. We used it once and it made her so sleepy I decided that wasn't the right choice for us. Then my husband reminded me. "What about those things you wore on your wrist when you were pregnant, I wonder if they make those for kids?"
And that's where our story takes a turn for the better. Thankfully Sea-Band DOES make a kid sized band and it's the perfect drug-free option for us. We've started keeping a set of Sea-Bands in the glove box of the car and my daughter knows to ask to wear them when we're going on a long ride. I'm so happy to have found an all natural, drug free way to help her feel better without worrying about side effects.
Sea-Band is not only a great option for kids with motion sickness, they're also great for adults and pregnant women. I wore them through my entire pregnancy to help combat morning sickness and I was relieved to have an inexpensive, drug free option.
"I received this product for free from Moms Meet to use and post my honest opinions. Compensation for this post was provided and this page may contain affiliate links."
SaveSave
SaveSave
SaveSave
SaveSave