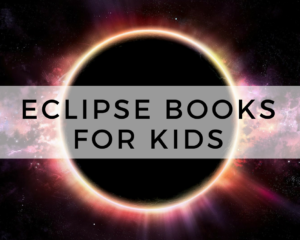 On Monday, August 21st a vast majority of the United States will have the opportunity to observe this very rare Solar Eclipse. If you're interested in your kids ready for the big event, here are a few books that they're sure to love. This post contains affiliate links, but all opinions are my own.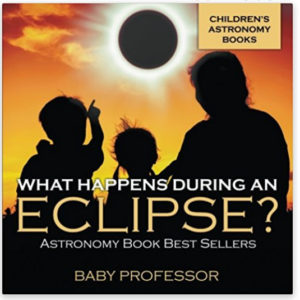 What Happens During an Eclipse? – Everybody gets thrilled when hearing about an eclipse happening. It gets broadcasted in the news and people actually look up at the sky, waiting. This book helps explain what is actually happening in the sky so kids can appreciate the phenomenon.
Recommended Ages: Elementary School Age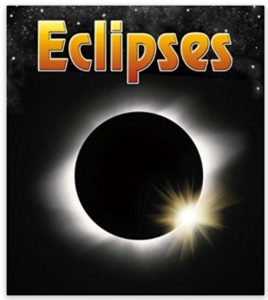 Eclipses – This book looks at solar and lunar eclipses, providing background information about the Sun, the Moon and our planet. The book covers what an eclipse is, what eclipses can look like, how they happen, the effects on wildlife, what people thought of eclipses in the past, how they are studied today, and about eclipses on other planets. This book has some of the most beautiful photographs and my kids loved it.
Recommended Ages: Elementary School Age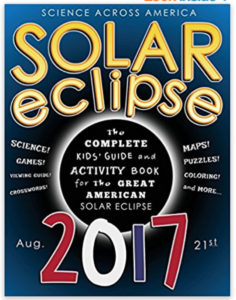 Solar Eclipse 2017 – This is an activity book that contains science and viewing guides, maps, and 30 pages of puzzles, games, and other fun activities to engage kids in this exciting, rare, and highly anticipated event. While there isn't a lot of explanation about what the actual eclipse is, this book will keep the kids busy if you're traveling to go view it.
Recommended Ages: Elementary School Age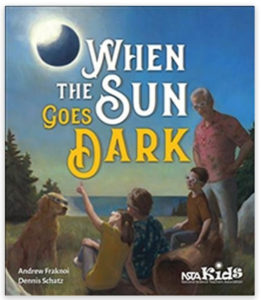 When the Sun Goes Dark – This illustrated book is a fun way to get young astronomers ready for the solar eclipse. The book tells how two curious children and their grandparents re-create eclipses in their living room using a lamp, a tennis ball, two Hula Hoops, and Ping-Pong balls. This book does a great job explaining the science behind a solar eclipse.
Recommended Ages: Upper Elementary and Middle School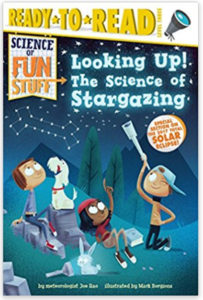 Looking Up! The Science of Stargazing – Did you know that comets are sometimes called "hairy stars?" Or that if you saw a sunset on the moon, the sun would look white because the moon doesn't have an atmosphere? You'll learn this and much more as you become an expert on the objects in the sky. Plus, this book contains a special section in the back all about the August 2017 total eclipse of the sun that will be visible throughout most of the United States.
Recommended Ages: Elementary School Age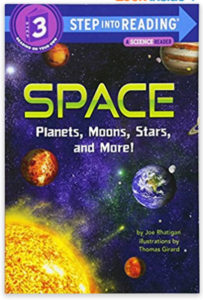 Space: Planets, Moons, Starts and More! – This book isn't about the eclipse, but your budding NASA scientist is sure to love it. This book is packed with NASA photos and space facts! An easy reader with up-to-date information (including about Pluto and its fellow dwarf planets) and stellar photos and illustrations, kids eager for mind-blowing nonfiction need look no further!
Recommended Ages: Lower Elementary School Age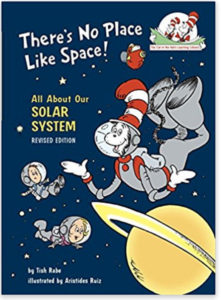 There's No Place Like Space! – Say goodbye to Pluto! In this newly revised, bestselling title, beginning readers and budding astronomers are launched on a wild trip to visit the now eight planets in our solar system, along with the Cat in the Hat, Thing One, Thing Two, Dick, and Sally. It's a reading adventure that's out of this world!
Recommended Ages: Preschoolers & Early Elementary School Age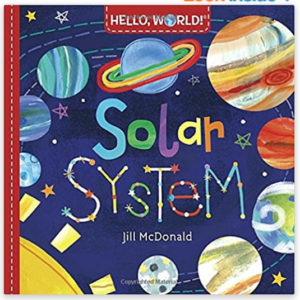 Hello, World! Solar System – This beautiful book has amazing illustrations that children of all ages will enjoy. Geared towards making learning fun for toddlers and young children, this picture book is designed to introduce first nonfiction concepts to babies and toddlers.
Recommended Ages: Toddlers and Preschoolers
This post contains affiliate links, which means I receive a share of revenue if you make a purchase using these link. I always provide honest opinions and only to products I actually use and love.
SaveSave
SaveSave
SaveSaveSaveSave
SaveSave
SaveSave
SaveSave