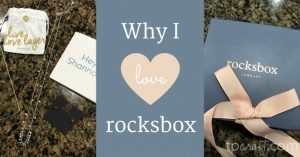 If you haven't heard of Rocksbox yet, you just don't know what you're missing. Think of it as Netflix for jewelry, a never ending jewelry box. You begin by signing up for a subscription and Rocksbox will send you 3 pieces of jewelry at a time. Wear them as much as you like and when you're done send everything back in a handy prepaid mailer and wait for your next delivery to arrive. Here are just a few reasons why I'm loving this new service.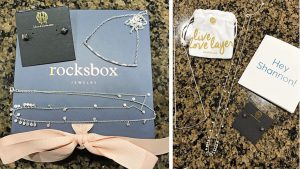 My first Rocksbox!
You can exchange as many sets as you want in a month. There have been several occasions where my Rocksbox came in the mail, I wore it the next day and it was back in the box getting shipped out to its Rocksbox home the very next day. You decide how long you want to keep a set, whether it's a day, a week or a month.
Turnaround time is quick. This was actually my biggest concern when I signed up for the service. Since you ship your set with a prepaid label that they provide, as soon as the tracking is picked up by USPS you get an email telling you "thanks for returning your Rocksbox, your new box will be sent out soon." Typically, I get an email the very next day saying that a new Rocksbox is already on its way to me.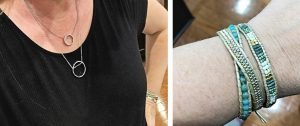 Rocksbox #2 – I loved both these pieces.
If you love it, you can buy it. If you receive a piece of jewelry that you love, you can just keep it and Rocksbox with bill your credit card. You can keep just 1 piece, or all of them, or none of them. You're not required to purchase anything additional outside your subscription.
Your stylist really listens to your feedback. The best way to get pieces you love is to create a wish list and then to provide feedback when you receive your box. A few times there were items that I had put on my wish list, but when they arrived they weren't exactly what I had in mind. I was sure to note exactly what I didn't like in my feedback so that my stylist would know the type of jewelry I preferred. You can also let your stylist know if you have a special event coming up and there's something particular you want.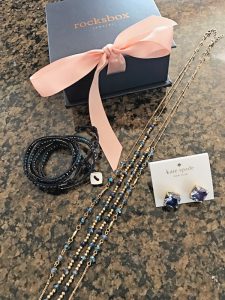 My third Rocksbox.
It's fun! One of the reasons my husband thought Rocksboxwould be a great gift for me is because I'm completely non-committal when it comes to jewelry. I'll see something I like, but I'll never pull the trigger to buy it for myself. Rocksbox gives me the freedom to try different pieces and send them back when I'm ready for something new. If I really do love them, I can always go ahead and purchase a piece, or the whole set!
So what does it cost? Rocksbox costs just $21 a month and that includes free shipping on all your items and as many sets as you'd like to exchange. If you'd like to give Rocksbox a try you can use my code: beachmomxoxo and you'll get a free month of jewelry!
This post contains affiliate links, which means I receive a share of revenue if you make a purchase using these link. I always provide honest opinions and only to products I actually use and love.
SaveSave
SaveSave